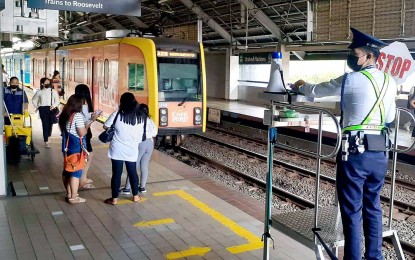 MANILA – The Light Rail Manila Corporation (LRMC) advised passengers of possible delays at the Light Rail Transit Line 1 (LRT-1) from Sept. 20 to 24 due to rail replacement activities at the Baclaran Station.
In a statement on Wednesday, LRMC chief operating officer Rolando Paulino III said the activity is part of the company's continuous railway upgrade program.
He said the upgrade work is expected to impact the LRT-1's train timetable and headway (or the time between trains) from the current four minutes to about five minutes.
"LRMC will close a section of its Baclaran reversing tracks resulting to constraints in train movements, train deployment, and usage of station platforms for loading and unloading passengers," Paulino said.
He asked for understanding from the LRT-1 passengers and advised them to plan their trips ahead of time.
These maintenance activities, he said, allow for a safe and reliable transportation system while continuing to cater to a growing ridership.
"We also continue with the deployment of our new fourth generation trains to carry more passengers, with five train sets already in commercial service," he said.
LRT-1 operations are expected to normalize by Sept. 25. (PNA)