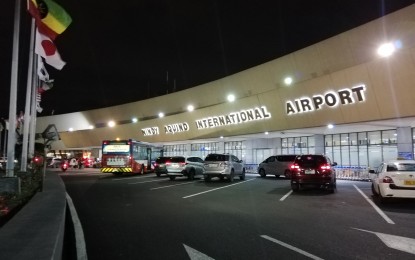 MANILA – Three screening personnel "appeared to be in connivance" in a recent alleged theft at the Ninoy Aquino International Airport (NAIA), a report of the Office for Transportation Security (OTS) said.

The OTS has been under fire anew after at least one of its screening officers allegedly took USD300 from a departing passenger last Sept. 8 at the NAIA Terminal 1.
An OTS report obtained by a member of the airport press on Wednesday indicated that three personnel took part in the illegal act.

CCTV footage showed that security screening officer (SSO) Irency Morados attempted to swallow the dollar bills she apparently got from the bag of a foreign passenger.

Morados took the USD300 of the passenger during the inspection "and was clearly in the possession of the stolen money as she deliberately swallowed the paper bills to avoid getting caught", the report read.

It added that Morados' supervisor, Abraham de Luna, and X-ray operator Regino Allen Pollante who gave the water bottle to Morados "appeared to be in connivance relative to the execution and the subsequent evasion on the consequence of herein illegal act of SSO Morados".

Based on the CCTV footage, de Luna approached Morados and seemingly ensuring that the bills are dispatched to preclude evidence, the report said.

The report also noted that the SSO's supervisor then approached her, and "was seemingly communicating with her as the latter was obviously almost choking in her effort to swallow the dollar bills while using her hanky to cover her mouth."
The OTS earlier said it is probing the incident.
Sought for comment, the Manila International Airport Authority (MIAA) has expressed dismay over the incident.
MIAA officer in charge Bryan Co, in a statement, condemned frontliners whose actions completely negate the Authority's efforts to improve the service levels at the NAIA.

He, however, said he believes that the OTS is doing what is necessary to police their ranks and protect the reputation of the majority.

"According to the OTS, they have completed the initial investigation on their personnel, who are currently under preventive suspension, pending a more comprehensive investigation," Co said. (PNA)