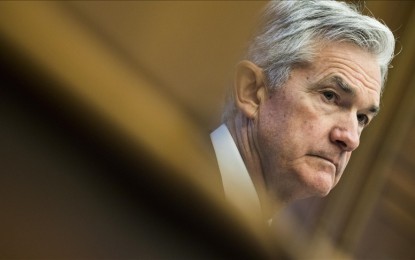 ISTANBUL – US Federal Reserve Chair Jerome Powell said Wednesday the central bank will move "carefully" in determining the extent of monetary policy tightening based on future macroeconomic data.
"We will continue to make our decisions meeting by meeting, based on the totality of incoming data, and their implications for the outlook of economic activity and inflation, as well as balance of risks," he said in a post-meeting news conference.
Powell's remarks came after the Fed skipped an interest rate hike for the second time this year, but left the door open for one more rate increase of 25 basis points for the remainder of its two meetings this year.
"Inflation has moderated somewhat since the middle of last year, and the longer-term inflation expectations appear to remain well anchored," he said. "Getting inflation sustainably down to 2 percent has a long way to go."
Powell said the American economy is facing headwinds from tighter credit conditions for households and businesses, and stressed the Fed is "mindful of the inherent uncertainties."
"We are prepared to raise rates further if appropriate, and we intend to hold policy at a restrictive level until we are confident that inflation is moving down sustainably toward our objective," he added.
Powell said stronger economic activity means the bank has to do more with interest rates. "Economic activity is stronger than everyone has expected."
He stressed the decision to maintain the bank's policy rate at Wednesday's meeting does not mean it has reached the monetary policy stance it is seeking.
"The majority of (Federal Open Market Committee's) participants believe that it is more likely that it will be appropriate to raise rates one more time in the two remaining meetings this year," he said.
"We want to see convincing evidence that we have reached the appropriate level. We see progress and we welcome that, but we need to see more progress before we are willing to reach that conclusion," he explained.
The bank has made 11 rate hikes since March 2022 to tame record inflation but also risked pushing the US economy into a recession.
Powell, however, said he believes it is possible to achieve a "soft landing" – a situation where a central bank raises interest rates too much and too high that leads to an economic slowdown but avoids a recession.
"I have always thought that the soft landing was a plausible outcome. That there was a path to a soft landing," he said. "It is also possible that the path has narrowed and widened apparently. Ultimately this may be decided by factors outside of our control, but I do think it is possible."
The Fed indicated fewer rate cuts are expected next year, according to the bank's projection materials released at the conclusion of its two-day meeting Wednesday.
Powell, on the other hand, said he never intended to send a signal about "timing" amid "hypothetical" rate cuts.
"The time will come at some point, and I am not saying when, that it is appropriate to cut. Part of that may be that real rates are rising because inflation is coming down. It will be all the factors that we see in the economy and that time will certainly come at some point," he said.
He underlined that current projections are just estimates that are made a year-head and they are "highly uncertain."
The Chair listed some of the uncertainties and these include government shutdown, auto workers' strike, resumption of student loan payments, higher long-term rates, higher oil prices. He said the Fed is assessing all these.
"Energy prices being up can affect spending. A sustained period of higher energy prices can affect consumer expectations about inflation. We tend to look for short-term volatility and look at core inflation," he said.
"If there is a government shutdown, and it lasts through the next meeting, then it is possible we wouldn't be getting some of the (macroeconomic) data that we ordinarily get," he added.
Powell underlined that the worst thing the Fed can do is fail to restore price stability.
"If you don't restore price stability, inflation comes back and you can have a long period where the economy is just very uncertain, and it will affect growth," he said. "It can be a miserable period to have inflation come constantly coming back and the Fed coming in and having to tighten again and again." (Anadolu)