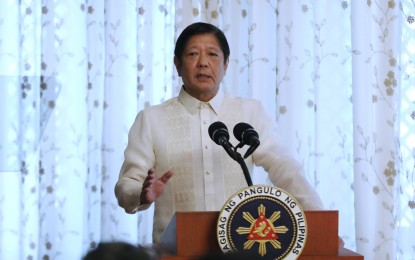 MANILA – Speaker Ferdinand Martin G. Romualdez on Thursday said President Ferdinand R. Marcos Jr.'s move to certify the 2024 General Appropriations Bill (GAB) as urgent has underscored the President's "commitment to serving the Filipino people efficiently and effectively."
"His decision to certify this crucial legislation as urgent reflects his unwavering commitment to the welfare and progress of our nation," Romualdez said in a statement.
Marcos, in a letter issued Wednesday and addressed to Senate President Juan Miguel Zubiri and Romualdez, called for the swift passage of the GAB "to address the need to maintain continuous government operations following the end of the current fiscal year (FY)."
The certification, the President said, would also ensure budgetary preparedness "that will enable the government to effectively perform its Constitutional mandate."
Romualdez said the certification will also enable the House of Representatives to pass the budget bill on the second and third reading on the same day, thus assuring that the chamber can pass the PHP5.768 trillion national budget for 2024 on third and final reading next week before Congress goes on break.
Congress will be in session until Sept. 29, and will go on All Saints' Day-All Souls' Day recess from Sept. 30 to Nov. 5.
He reassured the public that the House is committed to a transparent and thorough budget process that adheres to the highest standards of fiscal responsibility.
"We will continue to uphold the principles of accountability, inclusivity, and efficiency throughout the budget deliberations," he said.
"The House of Representatives stands united in its commitment to pass the 2024 national budget and support the government's initiatives aimed at promoting economic growth, social development, and the well-being of every Filipino," Romualdez said. (PNA)