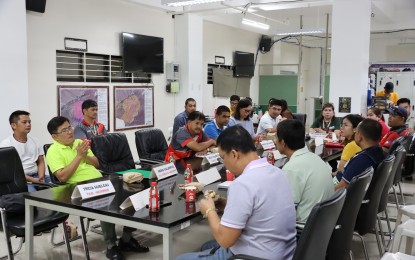 BATANGAS CITY – The Provincial Disaster Risk Reduction and Management Office (PDRRMO) has called on school authorities in affected Batangas town to hold online classes to keep students safely at home amid Taal Volcano's renewed spewing of volcanic smog or "vog".
In an interview on Thursday, Dr. Amor Banuelos-Calayan, PDRRMO head, revealed that her office has just received a report that several high school students from Balete town experienced skin irritation, breathing difficulties, and some even had asthma attacks.
Apart from the human health toll, municipal officials in Balete have also reported an estimated PHP1.9-million damage to agriculture as highly acidic vog particles settle on top of crops.
Sulfuric acid droplets in vog have the corrosive properties of dilute battery acid and can damage both animal and plant tissue.
Banuelos-Calayan said a meeting was held on Wednesday with various city and municipal DRRMOs in an effort to develop a province-wide strategy for addressing the health and economic threats posed by the volcano.
"Most of the issues raised in our meeting are school-related problems. Although there is still no suspension of classes, most schools have already shifted to modular distance learning," she said.
It was disclosed that some schools in the towns of Agoncillo, Laurel and the city of Tanauan have already shifted to modular distance learning or alternative delivery mode (ADM) to ensure the safety of students.
To mitigate vog-related reactions, Banuelos-Calayan said the PDRRMO has been distributing oximeters, thermometers and N-95 face masks in towns closest to the active volcano.
She reported that some 65,000 face masks have been distributed to Batangas residents in the past two weeks.
As of this writing, Banuelos-Calayan was in Ibaan to monitor the effects of vog in the town.
She said the Department of Education (DepEd)-Batangas is experiencing logistics problems because many schools are holding face-to-face classes.
"There are not many affected adults reported but highly-exposed students in the schools that are near Taal Volcano," she added.
The DRRM officials were informed by the DepEd-Batangas that the authority to suspend classes during calamities, including the eruption of the Taal Volcano, is given to high school principals and local government units pursuant to DepEd Order 37, Series of 2022.
Banuelos-Calayan cautioned the public that Taal Volcano remains at Alert Level 1, indicating abnormal conditions and continued potential for a possible eruption.
She thus urged the residents around Taal Lake to avoid non-essential activities outside the house to avoid the sulfur dioxide emitted by the volcano.
"Use only standard N-95 masks to ensure that they are effective and protected against harmful vog and its possible side effects," she added.
Banuelos-Calayan said the PDRRMO is continuously monitoring several towns including Mataas na Kahoy, Balete, Talisay and Laurel where they have previously distributed additional N-95 masks to residents upon reports of vog early this month. (PNA)