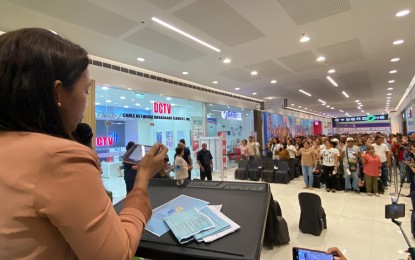 LEGAZPI CITY – The Commission on Elections (Comelec) in Albay has reminded candidates in the upcoming Barangay and Sangguniang Kabataan Elections (BSKE) to refrain from activities prohibited at this time, five weeks before the poll exercise.
Comelec-Albay Election Supervisor Ma. Aurea Bo-Bunao on Thursday warned against premature campaigning, saying this is a ground for disqualification.
She noted that a show cause order was issued against an aspiring village official over a premature campaigning activity.
"The show cause order was served to a candidate from Oas town. The candidate was given three days to submit an affidavit in response to the complaint against him of premature campaigning," Bo-Bunao told the local media.
She asked for the cooperation of all candidates to ensure safe, peaceful, and honest elections.
"A reminder to all candidates not to engage in any activities that will promote their candidacy or to lose the candidacy of their opponent since this is all prohibited in Sec. 80 of the Omnibus Election Code na Premature Campaigning or campaigning outside the campaign period on Oct. 19-28," she said in Bicolano.
Addressing the potential village officials, she added that as a candidate, they are leaders of their barangays and should set an example in obeying rules.
Legazpi City election officer, Lawyer Connie del Castillo, said once a candidate receives a show cause order, he or she will undergo due process and be given time to explain.
"He or she is still considered a candidate unless a final decision from Comelec-Manila disqualifies him as a candidate. He must be able to explain his side. After that, the commission will decide if there is a valid ground for the complaint or allegations to disqualify the candidate," del Castillo said in an interview.
On Sept. 18, more than 500 candidates for the BSKE in this city pledged their commitment to uphold law and order during a peace covenant signing and candidates' forum at the SM City.
Legazpi City has a total of 2,704 candidates from its 70 villages. (PNA)