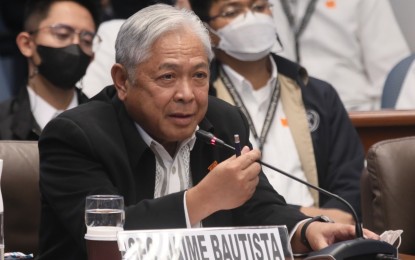 MANILA – Transportation Secretary Jaime Bautista wants a maximum penalty to be given to the airport screening personnel involved in alleged theft at the Ninoy Aquino International Airport Terminal 1.
In a statement Thursday, the Department of Transportation (DOTr) said Bautista expressed "frustration and dismay" over the incident and has directed the Office of Transportation Security (OTS) to immediately file charges against the security screening personnel.
"The Secretary further directed Undersecretary for Legal Atty. Reinier Yebra to assist in filing the complaints against those determined to have connived in stealing from the hand carried bag of a Chinese passenger," the statement read.
The OTS, after concluding its investigation, had recommended taking legal and administrative actions against the security screener caught on CCTV apparently swallowing the stolen USD300 she got from the bag of the departing passenger.
READ: OTS urged to reinterview employees, properly vet applicants
In a report, the OTS said aside from the screening personnel, two others -- the supervisor and an X-ray operator, appeared to be working together in the Sept. 8 incident.
The three are under preventive suspension, according to the OTS. (PNA)