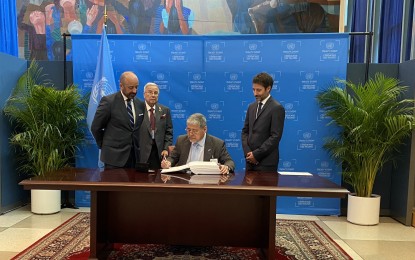 MANILA – The Philippine government formally endorsed the landmark international treaty on the protection of marine biodiversity in areas beyond a country's jurisdiction or the high seas.
Foreign Affairs Secretary Enrique Manalo signed the treaty on the margins of the ongoing 78th United Nations General Assembly (UNGA) in New York on Wednesday (Thursday, Manila time).
"Honored to sign today the historic Agreement under 1982 UNCLOS (United Nations Convention on the Law of the Sea) on the Conservation and Sustainable Use of Marine Biological Diversity of Areas beyond National Jurisdiction (BBNJ) Agreement," he said in a tweet. "(The Philippines) is proud to take this step to protect the world's oceans for present & future generations."
The BBNJ Agreement was adopted in New York in June after nearly two decades of negotiations.
The agreement, also known as the High Seas Treaty, sets up a framework for fair and equitable sharing of benefits arising from activities with respect to marine genetic resources in areas beyond national jurisdiction.
It also allows the establishment of area-based management tools, including marine protected areas, to conserve and sustainably manage habitats and species in the high seas and the international seabed area.
The treaty was opened for signing to all states and regional economic integration organizations at a Treaty Event in New York on Sept. 20.
Manalo is in New York to represent President Ferdinand R. Marcos Jr. at the 78th UNGA where he is expected to articulate Manila's "advocacies for respect for the rule of law and ambitious climate action."
Apart from the BBNJ Agreement, he also signed separate bilateral deals with Serbia and Lithuania to establish a political consultation mechanism between Manila and the two states.
Manalo is making a fruitful New York trip as he meets and discusses ways to enhance relations with his counterparts and ranking officials of other nations, among them Switzerland, Romania, Thailand, Yemen, Czech Republic, Austria, Croatia, Slovenia, Japan and Australia. (PNA)