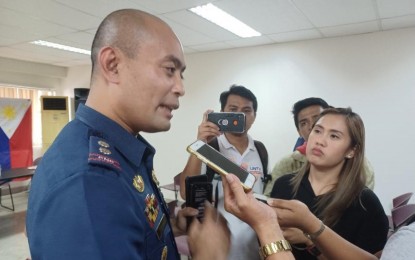 CEBU CITY – Nearly 450 police officers in Central Visayas whose relatives are running in the Oct. 30 Barangay and Sangguniang Kabataan Elections (BSKE) have been reassigned to different units.
"(This is) to prevent the idea of bias and to uphold the long-standing principle in the Philippine National Police (PNP) on political neutrality," said Lt. Col. Gerard Ace Pelare, the spokesperson of Police Regional Office-7.
Pelare clarified, however, that the transfer was only temporary.
He added these officers would not be transferred to different province but only to other localities outside the jurisdiction of the city or municipality where they are currently assigned.
Of the 446 police officers, 238 came from the Bohol Provincial Police Office.
Another 104 police officers affected by the reassignment were from the Cebu Provincial Police Office, six from Cebu City Police Office, three from the Lapu-Lapu City Police Office, and two from the Mandaue City Police Office.
In Negros Oriental, 78 police officers were ordered to report to other police units while 15 were from Siquijor.
Meanwhile, Pelare said they were expecting more forces to be deployed in Negros Oriental as the election nears.
"Obviously, because Negros Oriental has been placed under Comelec (Commission on Elections) control, we have more forces. A month before, we deployed 100 additional forces, but we expect there might be additional forces from the PNP and the AFP (Armed Forces of the Philippines) to make sure that the election in the province will be peaceful," he said.
Pelare clarified though they were not anticipating any violence in Negros Oriental as the latest crime statistics showed that peace and order situation in the province has so far improved following the arrest and neutralization of some personalities linked to the private armed group of a certain politician.
"We just want to be proactive so that no one will ever think of sowing terror in Negros during the elections if they see more uniformed police in the area," he said. (PNA)