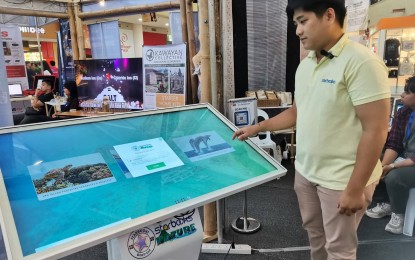 DUMAGUETE CITY – A new application launched recently by the Department of Science and Technology (DOST) aims to promote and preserve at least three protected areas in Negros Oriental.
Rommel Azucena Jr., Science Research Specialist 1 of the DOST, is referring to Dubbed Starbooks Nature, an app that contains all the information of the protected areas that they intend to visit.
These areas are the Apo Island protected landscape and seascape in Dauin, the Balinsasayao Twin Lakes protected area in Sibulan, and the Tañon Strait protected seascape.
"The app contains all the information of the protected area so that tourists will have enough details and particulars prior to or upon visiting the featured destination," he said.
The DOST has come up with two prototypes of the kiosk that is expected to be piloted in Apo Island once specific details have been ironed out, he said.
The offline interactive kiosk is user-friendly and touch-screen, complete with information about the protected areas, sights to see, wildlife and habitat, eco-tourism, conservation, threats, research, and management.
An added feature is a quiz that would encourage users to test their knowledge after having visited a particular protected area where Starbooks Nature is available, Azucena said.
The DOST will deploy the Starbooks Nature kiosk for free in the three protected areas initially identified as pilot areas, he added.
This is a joint project of DOST-Region 7 through the provincial science and technology office in Negros Oriental, in partnership with DOST-Science and Technology Information Institute (STII), which is the developer of Starbooks, Department of Environment and Natural Resources-Region 7, Silliman University and Negros Oriental State University in this capital city, and the Negros Oriental provincial government.
The two universities have collaborated with the DOST in providing the information and research materials of the three protected areas that are uploaded in the Starbooks Nature app.
The Starbooks Nature app was launched Tuesday here during the opening of the Regional Science and Technology Week held at the Robinsons Place shopping mall in this capital city.
Exhibitors are from various schools and groups that feature their respective innovations and inventions. (PNA)