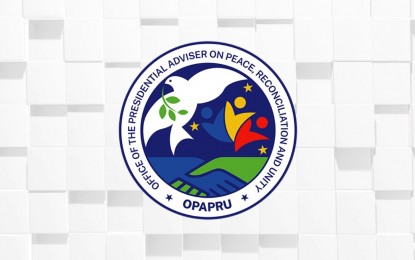 MANILA – Office of the Presidential Adviser on Peace, Reconciliation and Unity (OPAPRU) Secretary Carlito Galvez Jr. said Friday the increase in the agency's budget for next year would enable them to carry out the Marcos administration's peace agenda and uplift the lives of Filipinos affected by conflict.
This was after the Senate Committee on Finance chaired by Senator Ronald "Bato" dela Rosa approved on Sept. 20 the PHP7 billion proposed budget for the agency and the National Amnesty Commission (NAC).
"This budget is a peace investment because once all the signed peace agreements are fulfilled under the Marcos administration, we could all enjoy a more peaceful and more developed Bagong Pilipinas," Galvez said in a statement.
He noted that for the past several years, the OPAPRU has been operating with an average budget of only PHP800 million.
He said more than half of the amount are fund transfers made to partner agencies, such as the Department of Social Welfare and Development, Armed Forces of the Philippines, Philippine National Police, Philippine Statistics Authority, Department of Agriculture, and the recipient local government units (LGUs) to implement the deliverables, such as the decommissioning of the Moro Islamic Liberation Front (MILF) combatants, confidence-building measures, and limited social protection projects.
Aside from the PHP7 billion proposed budget, Galvez also requested an additional PHP800 million budget allocation for the agency's unfunded priority requirements, such as the budget for the NAC, the remaining transitional cash assistance to complete the decommissioning of 40,000 MILF combatants, and peace education programs.
Among the initiatives under OPAPRU's unfunded priority programs is the operationalization of the NAC, which President Ferdinand R. Marcos Jr. is actively pushing for.
Created under Executive Order 125 in 2021, the NAC is primarily tasked to receive and process applications for amnesty that were filed through the Local Amnesty Board.
Galvez, meanwhile, said the government must devote its resources to addressing the socio-economic triggers that lead to recruitment and rebellion, preventing renewed rebellion, and encouraging members of rebel groups to come forward and return to the fold of the law.
"We will fund (for 2024) the PHP5 billion PAyapa at MAsaganang PamayaNAn (PAMANA) projects that have been restored to OPAPRU to deliver on the socio-economic interventions to ensure changed lives and transformed communities," he said.
Galvez said the national government's PAMANA Program supports the peace negotiation track and contributes to the goal of attaining a just and lasting peace for all Filipinos and the country.
Among the PAMANA projects that are being implemented by the OPAPRU in partnership with national line agencies and LGUs are agriculture productivity support, bridges, roads, water systems, and other community-level infrastructure.
These projects are primarily implemented in conflict-affected and conflict-vulnerable areas and remote, hard-to-reach communities that have been lagging in terms of economic development. (PNA)