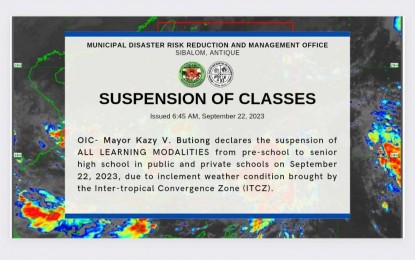 SAN JOSE DE BUENAVISTA, Antique – Six local government units (LGUs) in Antique have suspended classes Friday morning due to the heavy rains caused by the inter-tropical convergence zone (ITCZ).
Michael Tolentino, Local Disaster Risk Reduction and Management Officer (DRRM) III of the Antique Provincial DRRM Office, said the towns of San Jose de Buenavista, Hamtic, Belison, Tobias Fornier and the mountainous municipalities of Sibalom and San Remigio decided to cancel classes from kindergarten to senior high school following heavy rains that began Thursday night and could lead to flooding and landslide.
"Six out of the 18 LGUs decided to suspend classes of the learners to keep them safe at home," Tolentino said.
In Barangay Ipil in Belison town, a family had been preemptively evacuated to the barangay hall because of the flooding.
In a separate interview, municipal DRRMO officer Fe Corazon Tacogdoy said they are still monitoring the situation, particularly in barangays Bugarot, Bariri and Supa, and that they are ready to evacuate residents if the rains persist.
"So far, there is yet no critical flooding in the barangays that would call for evacuation," she said.
In Sibalom, DRRMO officer Joel Odango said they are monitoring the Sibalom River for possible overflow.
As of posting time, it has not reached the critical level.
"We just advise the public to stay on alert though for possible flood," Odango said. (PNA)