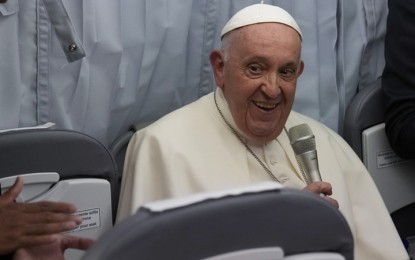 ROME – The preservation of human dignity rather than personal well-being must be the main criterion for welcoming, protecting and integrating migrants and refugees, Pope Francis said during the World Day of Migrants and Refugees on Sunday.
"Let us be touched by the story of so many of our brothers and sisters in difficulty, who have the right both to emigrate and not to emigrate, and let us not close ourselves in indifference," the Pope on X said,echoing his own words at the closing session of the Mediterranean Meetings in Marseille on Saturday.
"The difficulties of welcoming, protecting, promoting and integrating people who are not expected are there for all to see," continued the Pope. "But the main criterion cannot be the preservation of one's own well-being, but rather the preservation of human dignity," he added.
The Catholic Church celebrates the World Day of Migrants and Refugees each year on the last Sunday of September.
In his address on Saturday Pope Francis rejected the prevailing narrative of a migrant invasion as "alarmist propaganda" and said those who risk their lives at sea in search of protection and a better life just want to be welcomed.
He also called for sustainable legal pathways of entry for refugees and migrants seeking safety and a better life in Europe, as well as a "fair" reception system across the bloc. (ANSA)