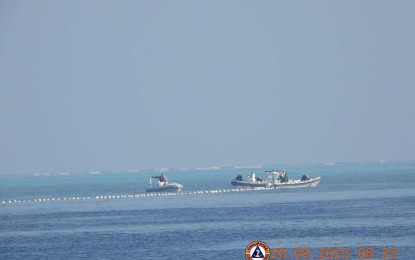 MANILA – The installation of floating barriers at Scarborough Shoal, also known as Bajo de Masinloc, by the China Coast Guard is an infringement of Philippine sovereignty, the Department of Foreign Affairs (DFA) said Monday.
Bajo de Masinloc is an integral part of the Philippines over which it has sovereignty and territorial jurisdiction, according to UNCLOS (United Nations Convention on the Law of the Sea), DFA spokesperson Ma. Teresita Daza said in a statement.
The 2016 Arbitral Award also affirmed it as a traditional fishing ground of Filipino fisherfolk.
"China's reported installation of barriers and its negative impact on the livelihood of Filipino fisherfolk or any other activity that infringes upon the Philippines' sovereignty and jurisdiction in Bajo de Masinloc are violations of international law, particularly UNCLOS and the Arbitral Award," Daza said.
The Philippine Coast Guard reported on Sunday that their personnel and officers of the Bureau of Fisheries and Aquatic Resources discovered an estimated 300-meter floating barrier during a routine maritime patrol on Sept. 22.
The DFA will "take all appropriate measures" to protect the country's sovereignty and the fisherfolk's livelihood, Daza said.
Earlier, National Security Council Assistant Director General Jonathan Malaya said a report about the Chinese activity has been completed and now awaiting the president's response. (PNA)