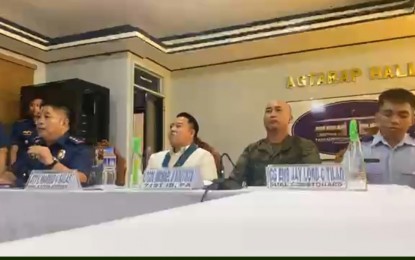 LINGAYEN, Pangasinan – Three villages in the province of Pangasinan were placed under the yellow category by the Joint Peace and Security Coordinating Committee of the Commission on Elections (Comelec) and the Pangasinan Police Provincial Office (PPPO) on Monday in line with the Barangay and Sangguniang Kabataan Elections (BSKE) 2023.
At a press conference, PPPO director Col. Jeff Fanged said the villages were in the municipalities of Burgos, Mangatarem, and San Quintin.
"These were placed under the yellow category for the purpose of monitoring. We will be deploying more personnel there but as time progresses, if we saw upon validation that there will be changes then we may lower the category," he added.
"We have deteremined three barangays under yellow category pero di ko muna sasabihin ano yong mga barangay baka maapektuhan yong activity ng barangays (We have determined three barangays under yellow category but I will not specifically name the villages so as not to affect the activities in these barangays). These are included because of the history of violence for the past 2018 elections and another one is because of intense political rivalry," Fanged said.
He said there were reported incidents of violence in these areas and even on social media.
The areas of concern classification have four categories: green, yellow, orange, and red.
Green refers to areas that do not have security concerns and are generally peaceful and orderly, while yellow pertains to areas of concern, which means that these have a history of election-related incidents in the last elections, possible employment of partisan armed groups, the occurrence of politically motivated election-related incidents, and had been previously declared under Comelec control.
Orange, meanwhile, means areas of immediate concern where there is a serious armed threat; while red means areas of grave concern, which exhibit combined factors under the yellow category with serious armed threats that may warrant the motu proprio (on its own) declaration of Comelec control.
Fanged said the PPPO and other national government agencies are coordinating with one another to ensure a peaceful and orderly 2023 BSKE.
Pangasinan Comelec election supervisor lawyer Marino Salas said the areas under the yellow category post minimal problems that could be readily addressed by the police.
Meanwhile, Salas said the Comelec has issued show-cause orders to six candidates from Pangasinan mostly due to complaints about premature campaigning on social media.
He said three from Asingan town and one each from Dagupan City, Pozzorrubio, and Bayambang towns were asked to explain why they should not be charged with an electoral offense.
"This could be a ground for disqualification and it is an election offense that is punishable with one to six years imprisonment and perpetual disqualification to hold public office," he said.
He again called the attention of the candidates, especially the SK candidates, to abide by the law as most of the suspected violators are SK candidates.
There are 57,746 individuals in Pangasinan who filed their certificate of candidacy for the upcoming BSKE from Aug. 28 to Sept. 2 this year.
Of the total number, 3,593 filed for barangay captain position, 28,580 for barangay kagawad (council), 3,817 for SK chairperson, and 21,756 for SK kagawad.
He said the number of those who filed for BSKE this year was higher than the over 43,000 who filed in the previous election.
Salas said they are also training over 23,000 teachers who will serve as the board of election tellers this coming BSKE.
He said Pangasinan has 6,330 clustered precincts and 2.1 million registered voters. (PNA)