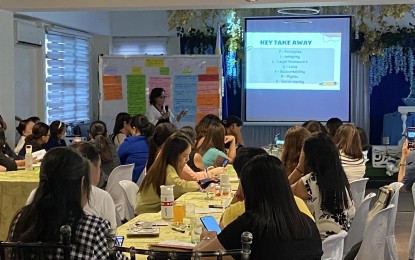 LEGAZPI CITY – The Juvenile Justice Welfare Council (JJWC) in the Bicol Region reminded all duty-bearers of the importance of promoting restorative justice and giving youth offenders who have gone astray a "second chance" to correct their mistakes.
During a Consultation Dialogue held here Monday, Genoveva Barcelon, JJWC-Bicol secretariat officer, said with proper intervention, rehabilitation programs and community support, youth offenders could safely return to society.
"'Pag sinabi kasi natin restorative justice, reparation for the victim, iniisip pa din natin paano ma-repair 'yung damage done sa victim and at the same time, we should also consider reconciliation (When we say restorative justice, reparation for the victim, we still think about how to repair the damage done to the victim, and at the same time we should also consider reconciliation)," Barcelon said in an interview.
She said the child in conflict with the law (CICL) must be assured the injustice won't happen again while the victim should be guided so as not to repeat the offense.
Dealing with children who commit crimes should not be punitive, Barcelon said. Their individual situations must be looked into so it can be determined how the government can help them lead better lives.
"'Yan po yung gusto natin ipakita sa restorative justice. Hindi 'yung pag may kasalanan ang bata parusahan natin, ipakulong natin. Tingnan natin ang kalagayan ng bata at kung paano natin matutulungan (That's what we want to show in restorative justice. Not punish or send to prison if the child is guilty. Let us look at the condition of the child and how we can help)," she said.
Barcelon said that based on the Bicol situational analysis from 2019 to 2021, CICL cases in the region are minimal.
"Mababa lang po ang bilang natin ng child at risk (CAR) and CICL. Minsan kasi na-sensationalize kapag bata ang involved. Sa total crime index ng Philippine National Police, two percent lang doon, very minimal, hindi siya alarming (We only have a low number of children at risk (CAR) and CICL. Sometimes it is sensationalized when children are involved. In the total crime index of the Philippine National Police, there is only 2 percent of cases involving children, very minimal, it is not alarming)," Barcelon said.
Records show 221 CICLs and 120 CARs in 2019; 122 CICLs and 169 CARs in 2020; and 74 CICLs and 147 CARs in Bicol last year.
Barcelon added that commonly committed offenses of CICLs are petty theft and rape.
She also pointed out that the implementation of Republic Act 9344, or the Juvenile Justice and Welfare Act of 2006 is everyone's concern.
"Starting with the family, let us strengthen the foundation by guiding our children on the right path. Also, the bigger community, the barangay, needs to help our children to prevent them from becoming at risk or in conflict with the law. The school has a bigger role in molding the child to become a better individual," she said.
The regional JJWC is conducting a series of consultations in the six provinces of the Bicol Region anchored on the five pillars of Juvenile Justice -- community, law enforcement, prosecution, courts and corrections.
The consultations aim to address the gaps in the implementation of the law, provide recommendations to enhance effectiveness and ensure that the rights and well-being of CICLs and CARs are upheld. (PNA)