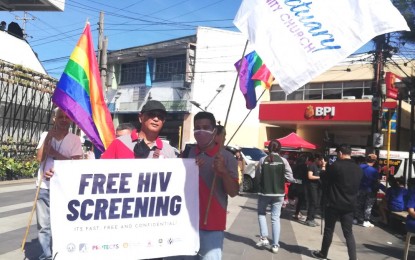 BAGUIO CITY – The Health Services Office (HSO) here is eyeing to distribute free condoms in night establishments and drum up its information campaign to curb the drastic increase in human immunodeficiency virus (HIV) cases.
Dr. Celiaflor Brillantes, HSO officer in charge and chair of the AIDS Watch Council, said on Monday they would also boost the information campaign on HIV prevention to encourage highly vulnerable individuals to get tested and avail of free services.
"It is important that they know how they can be protected and they are informed of the available services of the government," she said.
The HSO is also going to "aggressively" visit night establishments and distribute pamphlets or reading materials about HIV/AIDS, to check pink cards (health cards) of workers and their birth certificates to prevent minors from being abused and lured into working in night and alcohol-serving establishments.
In Baguio City, the vulnerable populations identified are transgender women, female sex workers and people in prostitution, people who use/inject drugs, and women and children.
Registered night workers in the city are required to have a weekly check-up at the HSO's social hygiene clinic.
Brillantes said the vulnerable groups should get tested for the disease, properly diagnosed and if infected get enrolled in anti-retroviral treatment (ART), a medical regimen that reduces and keeps the amount of virus under control.
The city's records show that there were 34 new positive cases detected from Jan. 1 to Aug. 30, 2023. Of these cases, eight were within the age range of 15 to 25 years old.
The Department of Health in the Cordillera region earlier said men having sex with men (MSM) are the most vulnerable group, logging 50 of the 73 new cases in the region during the same period.
In Baguio City, data shows an increasing trend in HIV cases -- 21 were recorded in 2019; at least 14 cases in 2020; 31 in 2021; and 56 in 2022.
For the first semester of 2023, there are 19 new cases and 34 in the first eight months of the year. (PNA)