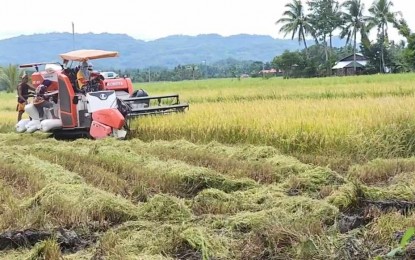 SAN JOSE DE BUENAVISTA, Antique – The higher buying price for palay offered by the National Food Authority (NFA) serves as a benchmark for commercial rice traders, making it advantageous to farmers.
Epifanio Cosca, NFA Iloilo-Antique branch manager, said during a virtual press conference on Monday that commercial rice traders have to scale up their prices because they need to procure their stocks.
The NFA procures a kilogram of wet palay at PHP16 to PHP19, and PHP19 to PHP23 for clean and dry.
"The NFA new pricing as announced by President Ferdinand E. Marcos Jr. is really advantageous to the farmers," he said.
President Marcos announced the new buying price after meeting with the NFA Council on Sept. 18, 2023 in support of Executive Order (EO) 39 setting the price cap for regular milled rice (RMR) at PHP41 per kilogram and for well-milled rice (WMR) at PHP45 per kilo.
The Office of the Provincial Agriculture (OPA) said commercial traders procure wet palay at PHP14 to PHP15 per kilogram and PHP22 for dry.
Cosca said the NFA targets to buy an initial 93,000 bags of palay in Antique, which is now in its peak harvest season.
From Jan. 1 until Sept. 25 this year, the NFA has already procured 23,000 bags of palay, but it is optimistic it could buy more this peak season from September until November.
"We encourage farmers to sell their palay to the NFA buying stations in Antique," Cosca said.
The NFA has buying stations in its warehouses in San Jose de Buenavista and Culasi towns.
He added that in addition to the higher buying price, farmers help ensure enough buffer stock for use during calamities when they choose to sell their produce to the NFA. (PNA)