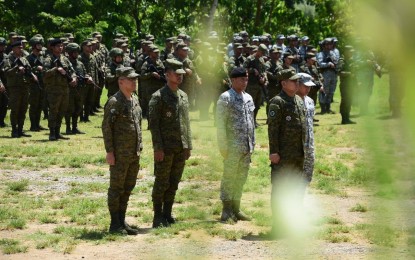 MANILA – Philippine Army (PA) spokesperson Col. Xerxes Trinidad on Tuesday said their ongoing five-day exercise with the Philippine Air Force (PAF) is to enhance the communication and coordination of the two services be it for internal security or territorial defense missions.
The five-day PA-PAF Interoperability Exercise (IOX) at the 5th Infantry Division in Camp Melchor F. Dela Cruz in Gamu, Isabela started on Monday and will run until Saturday, he added.
"(This iOX also seeks) to enhance personnel competencies and unit capabilities and be readily deployable, as well as to sustain and jointly address contingencies (and) to enhance the interoperability relations between the PA and PAF through the conduct of training exercise in support to the accomplishment of the respective missions," Trinidad told the Philippine News Agency (PNA) in a message.
He added that this year's IOX includes command post exercises, subject matter expert exchanges (SMEEs) and field training exercises (FTXs).
Around 836 personnel from the PA and PAF are participating in the SMEEs on intelligence, surveillance, and reconnaissance, air-to-ground operations, close air support, fast rope insertion extraction system, military free fall, hoist, communication and support system, and sustainment operations.
Meanwhile, the battle staff exercise will focus on problem-action scenarios, which will all be applied to the FTX as a culmination activity. (PNA)