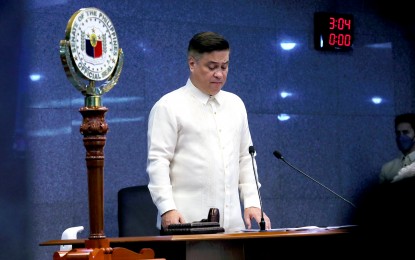 MANILA – Senate President Juan Miguel Zubiri said Tuesday that four priority bills of the Marcos administration that the Senate recently approved would boost the economy and protect vulnerable sectors once enacted into law.
Approved on Monday evening were Senate Bill (SB) 1846 or the proposed Internet Transactions Act; SB 2224 or the Ease of Paying Taxes Act; SB 2233 or the Public Private Partnership Act; and SB 2001 or the New Philippine Passport Act.
"These pieces of legislation were carefully studied and deliberated on by the senators to help improve the lives of every Filipino in line with President Ferdinand Marcos Jr.'s governance agenda," Zubiri said in a statement.
"As a collegial body, the Senate is committed to work together in crafting legislation that will spur economic growth, boost investors' confidence, and provide additional benefits for the vulnerable sectors of our society."
The passage of the measures came less than a week after Zubiri, House of Representatives Speaker Martin Romualdez, and other leaders of both chambers of Congress met with the President in Malacañang during the Legislative-Executive Development Advisory Council meeting.
With this development, Zubiri expressed anew his optimism that the 19th Congress would be able to approve all the 20 priority bills that the President wanted to enact before the year ends.
"While we recognize the importance of the Marcos administration's legislative agenda, we still have to carry out our responsibilities as lawmakers to ensure the quality of the products of the Senate's legislative mill," he said.
Apart from the four priority measures, also approved on final reading on Monday were SB 2028 (An Act Recognizing the Octogenarians, Nonagenarians, and Centenarians), and 12 local bills involving state universities and colleges. (PNA)