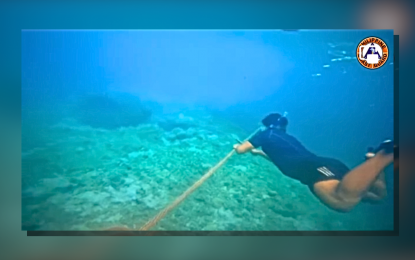 MANILA – The Philippines has the right to protect its sovereignty and sovereign rights over the West Philippine Sea, Foreign Affairs Secretary Enrique Manalo said Tuesday following the government's move to remove a Chinese floating barrier in Scarborough Shoal, also known as Bajo de Masinloc.
"Technically, we have a right to practice our sovereignty and our sovereign rights. So, it would have been a move that is consistent with our position," he said.
Manalo made the statement on the sidelines of the Department of Foreign Affairs (DFA) budget hearing at the Senate on Tuesday but did not go into details, noting that they are still waiting for the full report.
The Philippine Coast Guard (PCG) confirmed the removal of floating barriers installed by the Chinese Coast Guard in the southeast entrance of Scarborough Shoal.
PCG spokesperson for the West Philippine Sea Commodore Jay Tarriela said the move follows President Ferdinand R. Marcos Jr.'s instruction as he noted that the barrier is "a clear violation of international law."
"It also hinders the conduct of fishing and livelihood activities of Filipino fisherfolk in Bajo de Masinloc, which is an integral part of the Philippine national territory," he added.
The Chinese Ministry of Foreign Affairs had admitted that the move was made to block and drive away a Philippine vessel from the area.
"On September 22, a vessel of the Bureau of Fisheries and Aquatic Resources of the Philippines, without China's permission, intruded into the adjacent waters of Huangyan Dao and attempted to enter its lagoon. China Coast Guard did what was necessary to block and drive away the Philippine vessel. The steps it took were professional and restrained," China's Foreign Ministry Spokesperson Wang Wenbin said. Huangyan Dao is China's name for Scarborough Shoal.
The Scarborough Shoal is situated 124 nautical miles off Masinloc, Zambales and is within the Philippines' 200-nautical-mile exclusive economic zone.
China continues to lay claim over the Scarborough Shoal, saying the feature is within its territory.
Scarborough Shoal is approximately 472 nautical miles away from the nearest coast of China and is a chain of reefs and rocks, not an island. (PNA)