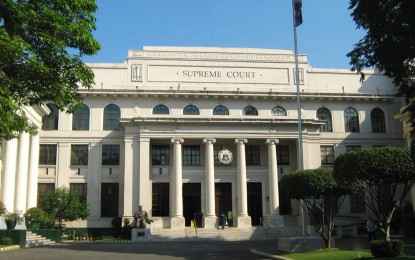 MANILA – The Supreme Court has turned down a petition filed by a group of customs brokers questioning a provision of Republic Act (RA) 10863 or the Customs Modernization and Tariff Act (CMTA), which supposedly clipped their powers.
In a statement Tuesday, the tribunal said its second division has affirmed the June 10,2021 decision of the Court of Appeals (CA) which in turn affirmed the Manila Regional Trial Court (RTC) Branch 16) dismissing the petition filed by the Chamber of Customs Brokers Inc. (CCBI) for lack of merit.
The organization had questioned Section 106 of RA 10863 which amended the earlier law on the matter, RA 9280 or the Customs Brokerage Act of 2004.
The assailed provision of the new law authorizes the importer, exporter, as well as their appointed agent or attorney-in-fact, to lodge a goods declaration independently and without the participation of a customs broker.
State lawyers argued that the provision is pursuant to the Philippines' compliance with its international obligations under the Revised Kyoto Convention (RKC) and Trade Facilitation Agreement to discontinue the mandatory use of a customs broker in goods declarations.
"To recapitulate, RA 10863 was enacted in response to the country's obligations to the RKC which was intended to, among others, respond to the needs of providing a balance between customs functions of control and revenue collection and trade facilitation. To the Court, this is the legitimate government interest behind such enactment," the court said. (PNA)