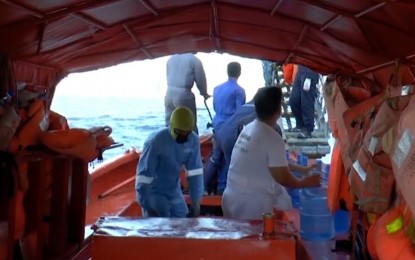 MANILA – President Ferdinand R. Marcos Jr. has certified as urgent a measure that will ensure that Filipino seafarers will continue to have an edge over their foreign counterparts through training and accreditations.
"Pursuant to the provisions of the Article VI, Section 26 (2) of the 1987 Constitution, I hereby certify to the necessity of the immediate enactment of Senate Bill No. 2221," read Marcos' letter to Senate President Juan Miguel Zubiri, dated Sept. 25, 2023.
Malacañang said the proposed measure, "An Act Providing for the Magna Carta of Filipino Seafarers," aims to address the lack of domestic laws vis-à-vis the country's compliance with international maritime standards, as well as the seafarers' rights and welfare.
"This is to address recurring deficiencies in the domestic laws pertaining to the training and accreditation of thousands of Filipino seafarers, which endanger their employment in the European market in particular, and the global maritime arena, in general," a news release from the Presidential Communications Office said.
The House of Representatives' version of the measure, House Bill 7325, was approved on March 6, with 304 affirmative votes against four.
The bill covers Filipino seafarers "who are employed or engaged or work in any capacity on board foreign-registered ships and Philippine-registered ships operating internationally."
According to the measure, Filipino seafarers have a right to a safe and secure workplace that complies with safety standards; fair terms and conditions of employment; decent working and living conditions on board a ship; health protection, welfare measures, medical care; self-organization; information about seafarer's family; against discrimination; educational advancement and training; relevant information; free legal representation; appropriate grievance mechanism; access to communication; fair treatment in case of a maritime accident; and fair medical assessment, among others.
Zubiri, after attending the 3rd Legislative - Executive Development Advisory Council meeting in Malacañang last week, said the measure is among the 20 priority legislations that the President urged lawmakers to pass by yearend.
He expressed hope that the Senate would pass the measure this week.
Filipino seafarers are among the largest sources of dollar inflows to the Philippines, with an estimated 400,000 seafarers deployed overseas on average from 2016 to 2021, based on Maritime Industry Authority data.
Last year, the European Maritime Safety Agency (EMSA) flagged the Philippines and warned that about 50,000 Filipino seafarers may lose their jobs if the country fails to address deficiencies in the workers' training and certification.
The EMSA later announced it would continue to recognize Standards of Training, Certification and Watchkeeping certificates issued by Philippine-based training providers after Marcos made moves to address decades-long problems with training systems.
"We are relieved to see EMSA pulling back from the brink with this decision and avoiding the risk of losing 50,000 of the world's finest maritime professionals from working aboard European vessels," Stephen Cotton, general secretary of the International Transport Workers' Federation, said in April.
"I am sure that is very welcome by the European shipowners just as it is by Filipino crew, their families, and their unions. There's no doubt that Filipino seafarers are prized in the industry for their skill, expertise, and professionalism: there is good reason that they remain the world's number one source of seafarers." (PNA)