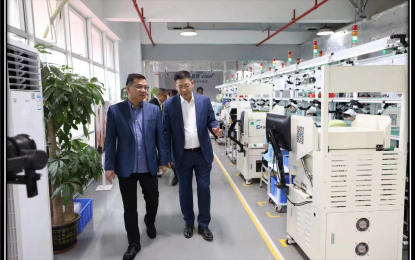 MANILA – China-based electronics company Grandsun Advanced Electronics (Philippines) Co. Inc. will open two additional audio devices factories in Batangas in 2025, a fruit of the President's visit to China last January.
In a statement on Tuesday, the Board of Investments (BOI) said the expansion plan was disclosed by Shenzhen Grandsun chairman and founder Charles Wu during a meeting with Department of Trade and Industry (DTI) Undersecretary and BOI managing head Dr. Ceferino Rodolfo on Sept. 19, 2023.
Rodolfo went to Zhaoqing City, China to invite the Chinese company's suppliers to support the supply chain requirements of Grandsun by setting up complementary presence in the Philippines.
Grandsun is a global producer of headphones (wired and Bluetooth), Bluetooth speakers, drivers and other related intelligent devices.
"During the meeting between the Grandsun top executives and Undersecretary Rodolfo, Wu confirmed that Grandsun Advanced Electronics (Philippines) Co. Inc. (GAEPCI), which began its audio devices (headphones) production facility at the LIMA facility in Batangas during the pandemic, is now running full blast, and that two new factories in the Philippines will be opened by the end of 2025," the BOI said.
Grandsun's total investments in the Philippines for its four audio devices production facilities at the Lima Technology Center, which is located at the boundary of Lipa and Malvar, Batangas, amounts to more than PHP3 billion, Philippine Trade and Investment Center in Guangzhou Commercial Consul Froilan Emil Pamintuan told journalists in Viber message on Tuesday.
He said the company is projected to have around 1,000 employees by the end of this year.
"By 2025, they are expecting two new factories. This will be on top of the PHP3 billion. GS did not yet publicly disclose the running amount for end 2025. By 2028, they target to provide 8,000 jobs," he added.
Officials of Shenzhen Grandsun are among those who joined the exclusive roundtable meeting on strategic projects with President Ferdinand R. Marcos Jr. during his state visit to China last January.
The company was ranked 7th globally on the Global Smart Headphone Invention Patent Ranking, just behind Apple (number 5) and Qualcomm (number 6), and ahead of LG (number 8) and Huawei (number 10).
"In the last five days alone, we have seen very tangible advancement in at least two investment leads generated during President Ferdinand (R.) Marcos Jr.'s official visits," DTI Secretary and BOI chair Alfredo Pascual said. (PNA)