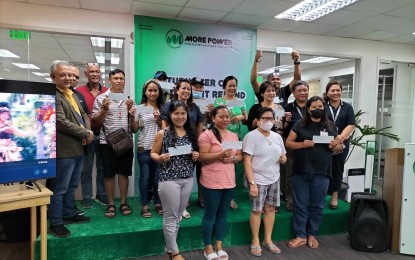 ILOILO CITY – Consumers who religiously pay their electricity dues are assured of reimbursement for their bill deposit as the distribution utility here on Wednesday said it is eyeing to process an additional PHP3.3 million in refunds by the end of 2023.
More Electric and Power Corporation (MORE Power) said the refund targets 777 customers in addition to the 175 clients refunded with a total of PHP539,000 from June until September this year.
"Since we have no intention of using or retaining these funds for our operations, it's only fair to promptly return them to our customers," MORE Power president and chief executive officer Roel Castro said in a statement.
Distribution utilities (DUs) require a bill deposit of new or additional services equivalent to one month of billing as a payment guarantee.
The Magna Carta for Residential Electricity Consumers allows customers to request a full refund of their deposit if they did not miss paying their dues for three consecutive years even before the termination of their contract.
Those qualified are notified through a letter attached to their bills that they are eligible for a refund.
"We consistently go the extra mile to inform eligible customers about the refund process," Castro added.
Meanwhile, in support of the cleanup drive and greening program of the city government, MORE Power embarked on mangrove planting and cleanup activities on Sept. 18 in Barangay Hinactacan, La Paz district.
Some 200 mangrove seedlings were planted while 50 sacks of garbage were gathered.
"Our partnership with the Iloilo City Environment and Natural Resources underscores our commitment to environmental stewardship. This is just one example of how MORE Power fulfills its corporate social responsibility," Armie Logarta, project development and management head of MORE Power, said in a statement. (PNA)