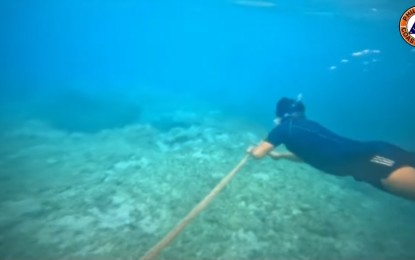 MANILA – A military official on Wednesday said they are looking at "three lines of efforts" to further enhance the country's presence in the West Philippine Sea (WPS).
Speaking at the Stratbase ADRi forum titled "Implementing a Comprehensive Philippine Maritime Framework to Advance Rule of Law" in Makati City, Armed Forces of the Philippines-Western Command (AFP-Wescom) chief Vice Adm. Alberto Carlos said these consist of effective occupation of all islands now occupied by the country in the WPS, establishing stronger naval presence, and enhancing maritime domain awareness (MDA).
"What is certain is that the solution to the WPS maritime issue is not in the hands of the military alone (but) the whole-of-nation approach because it takes a consideration of all matters, not just the military," he said.
The Wescom chief also defined MDA as knowing "what is happening in our area" and knowing the location of all Chinese Coast Guard, militia and foreign vessels.
He added that naval presence not only refers to the Navy but also includes the Philippine Coast Guard (PCG) and the Bureau of Fisheries and Aquatic Resources.
Carlos said the government is coming up with a "National Strategy in the WPS".
"It's forthcoming, I cannot discuss the details but it's (a) more, stronger assertion of (our) rights in the WPS," he added.
Tensions between the Philippines and China have heightened recently due to Beijing's efforts to blockade Filipino resupply vessels and their escorts headed to the Ayungin Shoal detachment.
China has also prevented Filipino fishermen from fishing in Bajo de Masinloc in Zambales through the installation of floating barriers.
The floating barriers were cut during a special operation by the PCG upon orders of President Ferdinand R. Marcos Jr. to the National Task Force for the West Philippine Sea.
Obstacles to be removed
The Wescom chief also said floating barriers near the Ayungin Shoal would also be immediately removed if these are placed there by China.
"So there is already a template in Scarborough (Bajo De Masinloc) so there is no question about that, if they do that in Ayungin we also have to remove the barriers and we do not have to wait for the order of the President to remove that," he added.
Carlos also said that this is why he closely monitored the situation in Bajo de Masinloc as what happened there could also happen in Ayungin Shoal.
"'Whatever ilagay nila (they will install), we will remove," he added.
Meanwhile, Department of National Defense (DND) Secretary Gilberto Teodoro Jr. assured senators that the agency and the Armed Forces of the Philippines (AFP) are open-minded and critical in their approach in maintaining peace in the West Philippine Sea (WPS).
Teodoro made the assurance during DND's Senate budget deliberation, presided by Senator Ronald "Bato" dela Rosa, when the military exchange program under the Philippines-China defense cooperation agreement was discussed.
"Hindi lang po natin sinisiyasat ang ating mga kalaban kundi kahit kaalyado. At dapat bukas ang mata natin kaya mahirap po ang sarado ang isip. So, kami po ay bukas ang isip sa lahat (We don't just scrutinize our enemies, but also our allies. And we have to open our eyes. That's why it is difficult if we have a closed mind. So, we have our minds open to all)," he told the senators.
Agreeing with the DND chief's statement, dela Rosa emphasized that the only concern of all Filipinos is to protect the country's sovereignty.
"Lahat ng bugso ng damdamin, init ng pananalita ay hindi pagbubunga sa pagmamahal natin sa China o sa Amerika kundi pagmamahal natin sa Pilipinas, ating Inang Bayan (All the emotions, heated statements are not fruits of our love for China or America but our love for the Philippines, our Motherland)," the lawmaker said.
Senator Robinhood Padilla, for his part, noted that the Philippines should maintain good relations with its neighbors given that it is currently "behind" when it comes to military and economy.
However, he noted the DND should still show its might within the Philippine territory.
The Senate Committee on Finance's Subcommittee "C" approved the proposed 2024 budget worth PHP229.9 billion of the DND and its attached agencies before proceeding into an executive session.
House Deputy Majority Leader and ACT-CIS Party-list Rep. Erwin Tulfo condemned China for circulating news, urging the Philippines not to "stir up trouble" in Bajo de Masinloc in Zambales.
"China has no right to tell us to behave in our own territory," Tulfo said. "Kahit ano pa ang itawag nila sa Bajo de Masinloc sa Zambales, sa Pilipinas pa rin ito. 'Yan ang malinaw dito (Whatever they want to call Bajo de Masinloc in Zambales, it is still within the Philippines. That is very clear)," he said.
Tulfo commended the PCG for asserting the country's right in the area by removing the floating barriers set up by China to block Filipino fishermen.
He said now is the time to bring the issue to the United Nations and seek the assistance of friendly countries, such as the United States and Japan, to help the country patrol the WPS. (With reports from Wilnard Bacelonia & Zaldy De Layola/PNA)