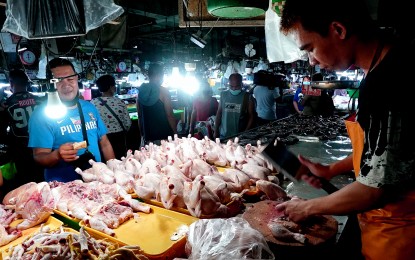 MANILA – A proposal to further extend tariff cuts on agricultural goods to moderate inflationary forces drew both support and appeals for caution from leaders of key business groups and academics.
This came as a reaction to reports that an Inter-Agency Committee on Inflation and Market Outlook (IAC-MO) led by Finance Secretary Benjamin Diokno is mulling the possibility of seeking an extension to Executive Order No. 10 beyond the current year in anticipation of continued price pressures into 2024.
EO 10 was signed by President Ferdinand R. Marcos Jr. on Dec. 29, 2022 to extend the existing Most Favored Nation (MFN) tariff rates for key commodities such as fresh, chilled or frozen pork, maize (corn), rice and coal until December 31, 2023.
In an interview on Wednesday, Francis Chua, chairman emeritus of the Philippine Chamber of Commerce and Industry (PCCI), said that keeping tariff rates on agricultural products provisionally lower would placate consumers following recent inflation surges brought about by rising world crude prices and local supply issues.
He recognized that by favoring the interests of the consuming public, the government might run into opposition from local producers of agricultural goods, who stand to be disadvantaged by the entry of cheaper imported products.
"The President is caught between a rock and hard place here. He also has to sacrifice government revenue by lowering tariffs. But this is necessary to reduce the financial burden on consumers," Chua noted.
For his part, Sergio Ortiz-Luis, Jr., president of the Philippine Exporters Confederation (PhilExport), said the decision on whether or not to extend the tariff cuts on agricultural produce should not be turned into a political or emotional issue.
He pointed out that the business sector is likely to support whatever economic managers would end up proposing because they are in the best position to make those recommendations.
"We have no reason to doubt their wisdom because they are privy to all the economic data. So long as it will only be temporary… just to avoid high inflation from happening again," he said.
On the other hand, Gregorio San Diego, chairman of the United Broiler Raisers Association (UBRA), cautioned that prolonging tariff cuts on agricultural imports further threatens the viability of domestic farming businesses.
He emphasized that the local agriculture sector has long suffered from unfair completion due to a combination of reduced tariffs and smuggling.
"Our group will oppose a further extension of that (tariff reduction on agri imports). How can local producers survive if they cannot earn a decent profit? The government needs to keep local growers afloat because a strong agricultural sector is essential to food security," San Diego said in Filipino.
Meanwhile, Carlos Manapat, economics department chair at the University of Santo Tomas (UST), supported the proposal to extend lower tariffs on agricultural imports but called for more safety nets in the form of import quotas.
He suggested that the government assign quotas to regulate the amount of imported agricultural goods that can be brought into the country at reduced tariff rates.
Manapat proposed the implementation of complementary measures to strengthen the domestic agriculture sector to protect farmers' livelihoods and ensure that enough food is produced internally.
"The long-term solution to this (food supply shortages leading to inflationary surges) is strengthening the production side. The government must invest heavily in agricultural infrastructure, such as more storage facilities. This is the key to sustainable agricultural development," he added. (PNA)