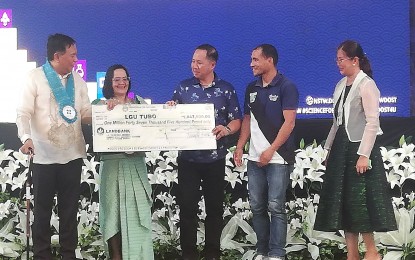 BANGUED, Abra – Three municipalities in this province received on Wednesday a grant from the Department of Science and Technology (DOST) for specific projects to improve the quality and standard of life of the people in the community.
DOST Benguet provincial director Shiela Marie Claver turned over the grants to the towns of Bucay, Tubo, and Lagayan, at the opening of the Regional Science, Technology and Innovation Week (RSTIW) here.
Claver said Bucay's project worth PHP545,500 will cover two post harvest processes in cacao bean production that includes fermentation and drying.
The project, titled "Productivity and Product Quality through Cost-efficient and Eco-friendly Post-harvest Technologies," hopes to capacitate farmers in producing quality fermented beans which is expected to add value to their crops, she said.
The project in Tubo town worth PHP1,047,500 is for building a resilient, smart and sustainable municipality through Science, Technology, and Innovation.
"This project will focus on the provision of science and technology interventions through the agency's CEST [community enhancement through science and technology] entry points of economic development, education, and health nutrition," Claver said.
The grant for Lagayan town worth PHP870,400 aims to address its diverse needs through science, technology, and innovation and make it more competitive and resilient.
"The project will focus on the provisions of science and technology; and foster long-term competitiveness and resilience. It is the pilot smart and sustainable community for the province of Abra," Claver said.
At a press conference, DOST Cordillera regional director Nancy Bantog said in identifying the needs of the beneficiaries, the agency has guidelines for projects in the community which are aligned with the priority needs of the local government units.
Aileen Malangen, OIC provincial officer for science and technology, said they conduct community assessment in determining what the community needs. (PNA)