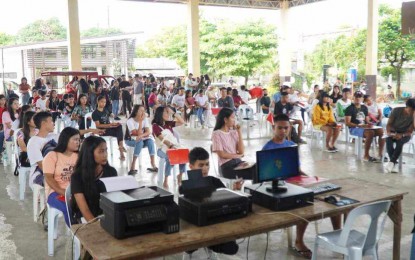 SAN JOSE DE BUENAVISTA, Antique – Around 6,000 indigent college students in Antique have applied for educational assistance from the provincial government for the school year 2023-2024.
The applicants came from the northern towns of Libertad, Pandan, Sebaste, Culasi, Tibiao, Barbaza, and Laua-an through the mobile application of the Antique Provincial Youth Development Office (PYDO).
PYDO head Irish Manlapaz said in an interview Wednesday they started accepting applications through their "PYDO on Wheels" on Sept. 11 in Libertad.
"The Antique provincial government for this school year 2023-2024 has allocated about PHP90 million for the educational assistance for around 15,000 students," Manlapaz said.
The aid aims to provide eligible students with funds they can use to buy books and their other school needs.
Manlapaz said the provincial government increased the support from PHP5,000 to PHP6,000 for each college student this school year.
"Today (Wednesday), we are in Bugasong to accept applications," she said.
She said they hope to finish accepting applications by the end of October or early November from 18 towns of the province so they can proceed with the processing and release the aid in February or March next year.
She also urged students to comply with all the required documents to avoid delays.
Applicants should prepare their registration form, school identification (ID) card or government-issued ID, and a Certificate of Indigency.
They should not have other scholarships, and the monthly take-home pay of their parents when employed must not be over PHP12,000.
"Students who are already in their second to fourth-year college should have no incomplete grade, dropped or failed subject," Manlapaz said.
She said the provincial government could allocate more funds to cater to more students when needed.
In the previous school year, around 18,000 students availed of the PHP5,000 cash assistance. (PNA)