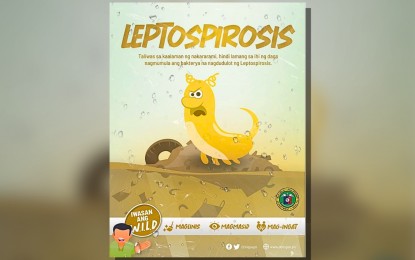 MALASIQUI, Pangasinan – The Department of Health Center for Health Development in the Ilocos Region (DOH-CHD-1) has recorded 221 leptospirosis cases in the region from Jan. 1 to Sept. 16 this year, 106 percent higher than the 107 cases on the same period last year.
In a virtual press conference hosted by the Philippine Information Agency Ilocos on Wednesday, DOH-CHD-1 medical officer Dr. Rheuel Bobis said of the total number of cases, 89 were from Pangasinan, 75 from Ilocos Sur, 19 from Ilocos Norte, and 38 from La Union.
There were 33 deaths recorded in the region due to leptospirosis or 14.9 percent of the total cases. Of this number, 17 were from Pangasinan, eight from La Union, seven from Ilocos Sur, and one from Ilocos Norte.
The number of deaths was also higher than the 18 recorded during the same period last year, Bobis said.
He said the increase in cases can be attributed to the typhoons and weather disturbances that have brought rain and floods in the region, exposing the residents to contaminated waters.
"Nagkaroon ng mas maraming bagyo at mas maraming pagbaha at kapag may pagbaha ay increased ang exposure sa pagbaha o contaminated environment kaya tumataas risk na magkaroon ng leptospirosis (There were several typhoons and floods and when there is flooding there is also an increased exposure to floodwaters or contaminated environment so the risk of getting leptospirosis has also increased)," he said.
Eased restriction among the young people and the elderly is also a contributing factor, he added.
The most commonly affected age group is between 15 to 19 years old and most of the victims are males who made up 90.5 percent of the total cases.
Despite the spike in the number, Bobis said it has not yet reached the alert and epidemic threshold.
Bobis said the DOH has issued a memorandum on the guidelines on the prevention, control, management, and surveillance of leptospirosis.
The DOH, through the memorandum, advised the public to practice preventive measures such as practicing good personal hygiene, cleaning wounds on legs and feet, avoiding wading in dirty floodwater or potentially contaminated bodies of freshwater, wearing boots or protective footwear, washing with soap and water of legs or feet after wading in flood water, and maintaining a clean home and environment.
Regular declogging and cleaning of drainage systems or canals and proper solid waste management by avoiding the accumulation of rubbish are also encouraged.
The DOH and the local government units are also distributing medications to prevent these diseases.
"Pero kung hindi maiwasan, maari magsuot bota para di mag come in contact sa bacteria na nagdudulot leptospirosis (But if it is not possible to do so, then wear protective boots so that one would not came in contact with the bacteria causing leptospirosis)," Bobis said. (PNA)