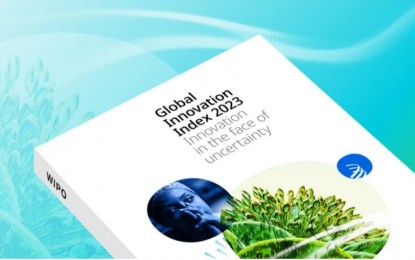 MANILA – The Philippines' ranking in the Global Innovation Index (GII) improved to 56th place among 132 economies this year, the World Intellectual Property Organization (WIPO) reported Wednesday.
The country's GII ranking this year is better than its placement in 2022 at 59th, which was a nine-place drop in 2021 at 51st.
The WIPO observed that the country is performing above expectations relative to its gross domestic product (GDP).
"(The) Philippines produces more innovation outputs relative to its level of innovation investments," it added.
Across the seven areas of GII, the Philippines ranks highest in Business sophistication (38th), Knowledge and technology outputs (46th), and Market sophistication (55th), while it needs further improvements in Human capital and research (88th), Infrastructure (86th), and Institutions (79th).
Intellectual Property Office of the Philippines (IPOPHL) Director General Rowell Barba welcomed the country's improvement in the GII 2023.
"(It's an) improvement even for only three notches compared to a big slide last year," Barba told the Philippine News Agency (PNA) in a Viber message.
Meanwhile, Switzerland maintained its top spot among the surveyed economies in the report this year.
Sweden replaced the United States in second place, while the latter landed in third place, which was Sweden's ranking in 2022.
Completing the top 10 economies in the GII report this year were the United Kingdom, Singapore, Finland, the Netherlands, Germany, Denmark, and South Korea.
"A group of emerging economies are consistently climbing the GII ranks, showing how a focus on the innovation ecosystem can make a difference. Globally, despite a downturn in venture capital funding, the GII 2023 should reassure us that innovative activity currently continues to run strong but that innovative activity should continue to shift from quantity to quality," WIPO Director General Daren Tang said. (PNA)