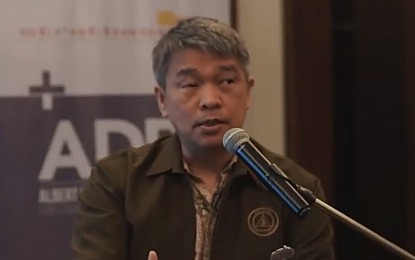 MANILA – China has never been called to account for the destruction of its "massive island building spree" to the marine environment in the South China Sea, a maritime law expert said Wednesday.
University of the Philippines - Institute for Maritime Affairs and Law of the Sea (UP-IMLOS) Director Jay Batongbacal said Manila has to quantify and appraise the losses in the area by conducting more marine science surveys.
He said the country could start this by documenting and creating a science-based analysis on the coral destruction in the area since 2012.
"Since 2012, satellite imagery shows that the destruction continued and I, myself, some years ago, noted that more than 500 hectares of Scarborough Shoal have been destroyed in those intervening years between 2012 and around 2015 or 2016," he said during a Stratbase ADRi forum in Makati City.
"We need to show that. We need to bring that up and show as well that the destruction continues," he said.
Batongbacal said the presence of maritime militia in the West Philippine Sea alone is causing "some kind of destruction" to coral reefs.
"The mere presence of your vessel can already destroy these sensitive reefs. The pollution that they produce while they're there for months on end will also affect the water quality, and corals are very sensitive to water," he said.
"So there is a basis to document activities on these reefs, and then come up with some idea of the costs, especially for certain areas that are frequented by these," he noted.

Batongbacal said a fact-finding initiative is also another way to call China to account before the international fora.
"We don't have to put everything in one basket, meaning everything in litigation or another case," he said.
"There are still many other things that we can do even before that, and all these have to be part of a broad strategy that precisely takes advantage of all these many different options - - all of them calling China to account for its destruction of the coral reefs in the South China Sea," he said.
The Philippines explored legal options over the damage to corals and seabed in Rozul Reef and Escoda Shoal in the West Philippine Sea.
Solicitor General Menardo Guevarra earlier said the Office of the Solicitor General would evaluate the merits of every legal option, including the possible filing of a complaint for damages before an international tribunal with proper jurisdiction.
Studies on seabed damage
Philippine Coast Guard spokesperson for the West Philippine Sea Commodore Jay Tarriela said they are tapping the help of marine scientists to carry out studies of the damaged seabed in the Rozul Reef and Escoda Shoal.
He said the "alarming" death of corals and the overall endangerment of the marine ecosystem in the West Philippine Sea should have scientific explanations.
He, however, admitted that it is a "significant challenge" for the PCG and the Armed Forces of the Philippines because of lack of scientific capabilities and expertise.
"By employing a scientific approach, we hope to gain a deeper understanding of the situation and find ways to mitigate the damage," he said.
Tarriela said they are looking to establish partnerships with public and private institutions that have the resources and personnel to launch scientific investigations into the maritime environment.
"With these marine scientists, the national government can work towards a more comprehensive understanding of our maritime environment and implement effective measures to protect and sustain it," he said.
There is no specific date and timing yet as to when the exploration would begin, Tarriela said.
He said the PCG is also having difficulty in leading a scientific expedition in these maritime features due to the limited availability of marine scientists in the country who are already committed to their ongoing research projects.
"Even if international organizations are willing to assist the national government in conducting scientific investigations on the reported dead corals in Rozul Reef and Escoda Shoal, it is important to rely on our Filipino experts. It is unfortunate that some of our countrymen would still interpret the investigation of other foreign entities as misleading or biased," he said.
This kind of mindset, he said, hinders the national government from partnering with international organizations who could have helped extensively studying the marine ecosystem in the West Philippine Sea.
To address these issues, Tarriela recommended that the National Task Force for the West Philippine Sea instruct marine scientists affiliated with public institutions to prioritize research in areas with national security implications.
"It is important for our marine scientists to heed the national government's call to investigate the deteriorating conditions of corals in locations such as Rozul Reef, Escoda Shoal, and other areas monitored by the NTFWPS," he said. (PNA)