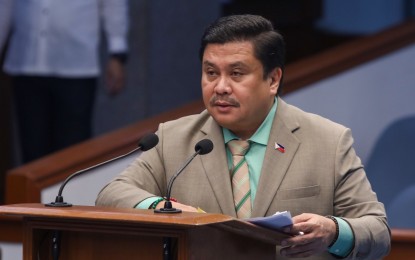 MANILA – The bill seeking to revive the country's Self-Reliant Defense Posture (SRDP) program was brought in the Senate plenary on Wednesday night.
Senator Jinggoy Estrada, sponsor of Senate Bill (SB) No. 2455 known as the SRDP Bill or the Self-Reliant Defense Posture Revitalization Act, said the measure seeks to ensure adequate defense assets and hardware for the country through domestic production and manufacturing, development of a national defense industry and lessening dependence on foreign and overseas suppliers.
Senate President Juan Miguel Zubiri, who co-sponsored the measure, said while it is vital that the Department of National Defense (DND) is given the proper budget for procurement, a self-reliant defense posture must also be built.
"Hindi tayo nagkukulang sa puso at tapang. Kailangan lang matapatan rin natin ng tamang kagamitan (We do not lack heart and courage. We just need to have the right equipment)," Zubiri said in his co-sponsorship speech.
He said currently, the Philippines is just depending on other countries "on what they can produce, what they are willing to offer, and on what terms they can offer their equipment to us."
"To be honest, I think maybe 90 to 95 percent of our defense needs have to be bought abroad," Zubiri said.
"We cannot depend just on our allies. We also have to be able to produce for our own needs in our own time. We understand our terrain. We understand our waters, our skies, our threats, and our people the best. So, we can develop equipment that best suits our needs," he added.
During the public hearings by the Senate Committee on National Defense and Security, Peace, Unification and Reconciliation chaired by Estrada, the DND said the majority of the country's defense acquisitions are done through government-to-government procurement.
"In 2022, military-related imports totaled approximately USD305 million, while arms-related exports amounted only to USD85 million. We aim to cure this significantly lopsided trade imbalance by providing incentives and government support to the local defense industry, and in the process stimulate job generation, promote transfer of advanced technologies, and expand our exports sector," Estrada said in his sponsorship speech.
"This representation firmly believes that we have enough resources we need in our midst – manpower assets, natural resources, and Filipino ingenuity forged by our long history and tradition of seafaring and craftsmanship. No doubt, we have the capability to develop our own. We just have to throw our full support and lay down policies that will catalyze its growth, and exercise political will and strategic foresight to sustain its development," he added.
Estrada said the SRDP Program was initially conceived and implemented during the 1970s which successfully met the basic requirements of the Armed Forces of the Philippines (AFP) through joint ventures and partnerships with the private sector to produce all-terrain light vehicles, radio for the operating troops, rifles, pistols and small arms ammunition, and textile industry that supplied close to 100 percent of the military's clothing requirements.
Under SB 2455, the SRDP shall be designed to prioritize local employment and contribute to foreign currency exchange savings; incentivize manufacturers to establish or relocate production or assembly of materiel in the Philippines, while ensuring protection of local counterparts against unfair competition; promote technology transfer; drive proactive research and development efforts and the adoption of innovative technologies; and promote the export of locally-made materiel to other countries.
It also proposes the rationalization of defense acquisition by providing preferential terms to domestic suppliers and in-country enterprises, under the "Filipino First" policy. (PNA)