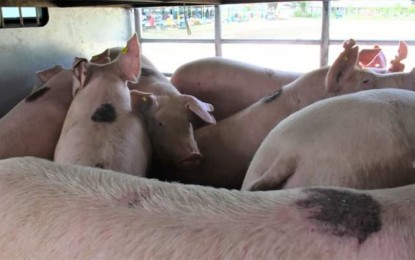 BACOLOD CITY – The Negros Occidental provincial government is planning to proceed with swine repopulation next year to revive the local industry after losing thousands of hogs to various diseases, such as African swine fever (ASF) and hog cholera, in the past months.
Governor Eugenio Jose Lacson said on Thursday cleaning of the affected areas is ongoing, after which there will be pre-sentineling and sentineling.
He did not provide a detailed timeline yet.
"If it goes well, then we will start. Our target is to repopulate. It looks like everything will start next year. Right now, we're preparing the areas," Lacson told reporters.
The "sentinel program" is a science-based approach to detecting the presence of the ASF virus in a particular area.
"We'll try to spread out the process so we can tell which area is safe. Although somebody informed me that in their area, hog production has been successful but that's their own. In fact, we're discouraging that. Let's all do the same process," Lacson said.
Lacson said he has instructed the Provincial Veterinary Office headed by Dr. Placeda Lemana to explain well to hog raisers the procedures or strategies to be implemented by the province and not just release the sentineling guidelines.
"It is also our responsibility to inform the swine industry what we want to do, hoping that we can be able to repopulate by next year," he added.
Lemana earlier said sentinelling is applicable in affected areas or barangays with zero swine deaths for about 40 days.
The hog farmer is also required to implement Biosecurity Level 1, the level of farm biosecurity in compliance with minimum standards set by the Philippine College of Swine Practitioners.
"The hog farm should have a fence, foot bath and drainage area. That's what we require from the farmers. They should also register with the Philippine Crop Insurance Corp.," Lemana said.
Local government units (LGUs) across the province reported almost zero swine deaths starting in August.
Negros Occidental, which has a PHP6-billion swine industry, has recorded almost 18,000 hog mortalities in some 20 LGUs since April this year, data from the provincial animal biosecurity incident management team showed. (PNA)