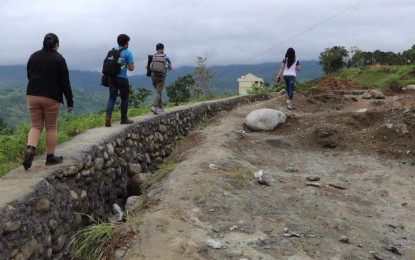 DUMAGUETE CITY – The Department of Science and Technology (DOST) Scholars' Association in Negros Oriental (DOST SA NegOr) made it back-to-back as the best scholars' association in Central Visayas.
Mark Gelson Panganoron, president of DOST SA NegOr, attributed the achievement to dedication and commitment to engage the community in various undertakings of the group.
"It is dedication and commitment to our mission of promoting academic excellence and community engagement, forging partnerships, and undertaking various activities that would impact our constituents and the communities that helped us gain this award," he told the Philippine News Agency in an interview Friday.
Panganoron, currently taking up Bachelor in Computer Science at Silliman University here, said around 70 activities and partnerships were undertaken during the judging period of school year 2022-2023.
DOST SA NegOr holds a seat in the Local Youth Development Council of Dumaguete, which has allowed it to expand its network, access opportunities, gain knowledge, and secure vital support, according to Reinhold Jek Abing, senior Science research specialist of DOST-Negros Oriental, in a separate interview.
Among the initiatives and projects that have been instrumental in securing the prestigious award for DOST SA NegOr was a community outreach program at Pacuan National High School-Busilak Extension, La Libertad, Negros Oriental, where scholars donated school materials early this year
Shine Therese Mate, the association's president during school year 2021-2022 when they also bagged first place in the competition, recounted their trip up to the mountains of La Libertad to deliver the school supplies.
Mate, an Information Technology student at Silliman, said they had to cross two rivers and walk several kilometers of muddy road to reach the Busilak Extension campus.
Busilak is about 20 kilometers of rough road from the national highway of La Libertad.
"We didn't have enough funds for the project but thankfully, many responded to our call for donations, such as from non-DOST students, friends, and private groups, and many volunteers helped us pack and put together the school supplies and other items," Mate said.
Teacher Junel Cayetano of the Busilak Extension school said he is very thankful for the donations, which have helped more than 200 students there in their learning processes.
A DOST SA NegOR scholar himself, Cayetano graduated in 2018 from the Negros Oriental State University with a degree in Mathematics but teaches other subjects at the extension school due to lack of teachers.
He encouraged students from this mountain village to put a premium on education to provide them with a better future.
Cayetano noted that coming from a less privileged family, he is blessed to be a DOST scholar and wants to pay it forward.
It was during school year 2020-2021 when DOST Region 7 began the search for best scholarship association, aimed at recognizing efforts for engagements and endeavors, including contributions to the organization members, university or college, DOST and the community.
Bohol was the inaugural winner 2021, with Negros Oriental placing second.
The DOST SA NegOR received PHP 15,000 and a plaque at the conclusion of the Central Visayas Regional Science and Technology Week celebration here on Sept. 24.
DOST SA NegOr has around 400 college scholars enrolled in various schools provincewide. (PNA)