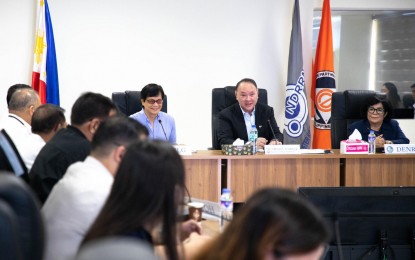 MANILA – The National Disaster Risk Reduction and Management Council (NDRRMC) tackled proposals on how to establish more durable and resilient evacuation centers during its third-quarter meeting in Camp Aguinaldo, Quezon City on Thursday night.
"One of the highlights of the discussion was the status and enhanced design of evacuation centers. It can be recalled that President Ferdinand Marcos Jr. stressed the importance of building resilient evacuation centers in his last State of the Nation Address to ensure the safety of the public in times of emergency," the NDRRMC said in a statement.
The Office of Civil Defense and the Department of Public Works and Highways are looking into the proposal, it added.
"The improved design of evacuation centers, the prioritization mechanism through risk-based assessments, as well as the considerations and updates on location and site suitability, structural and building capacity, and minimum design standards (menu of conceptual design standards) were tackled by the council," the NDRRMC said.
It noted that the proposed improved design of the evacuation centers will be finalized by concerned government agencies, with the results expected to be out in the coming DRRM meetings.
The council also tackled and approved amendments to NDRRMC Memorandum Circular 64, series of 2021 or the Guidelines on the Accreditation and Protection of Community Disaster Volunteers; Memorandum Circular on the Guidelines on Mainstreaming DRRM in Health in Local Development; and the proposed revision on Memorandum Circular 110, series of 2021 or the Revised Guidelines on the Administration of the NDRRM Fund.
The enhanced guidelines tackled during the meeting will be disseminated to stakeholders for implementation.
Aside from this, the NDRRMC said its chair, Defense Secretary Gilberto Teodoro Jr., emphasized the importance of cooperation and harmonized effort by the council in implementing and enhancing the DRRM programs, policies, and guidelines.
"Focusing on the strengthening of DRRM and the adoption of best practices for the public interest, Secretary Teodoro reiterated to officials and representatives of government agencies that NDRRMC should work as a council," it added. (PNA)