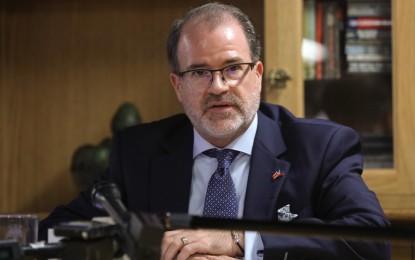 MANILA – Canada and the Philippines are looking to sign a deal that would give Manila free access to Ottawa's multimillion-dollar dark vessel detection program and support efforts to combat illegal fishing in its waters.
Canada is prepared to deploy the system as soon as the two governments finalize the agreement, Canadian Ambassador to the Philippines David Hartman said Saturday.
"We are looking forward to imminently concluding negotiations on an agreement to provide the Philippines with access to Canada's Dark Vessel Detection program," he said in a text message. "We are prepared, pending conclusion of the implementing agreement, to deploy the system in the coming weeks."
Hartman said the satellite-based system would provide the country with "near-real-time monitoring capability" to help enhance its maritime domain awareness and boost its capability to combat illegal, unregulated and unreported fishing (IUUF), as well as protect its marine environments.
Dark vessels are ships whose location-transmitting devices have been switched off to evade monitoring, control and surveillance.
Canada and the Philippines began the negotiations in January, a few months after Ottawa identified the Philippines as a core partner in its Indo-Pacific Strategy.
The Canadian Embassy has expressed hope that the deal could be signed during the 6th Philippine-Canada Joint Commission for Bilateral Cooperation meeting in Ottawa next week. (PNA)