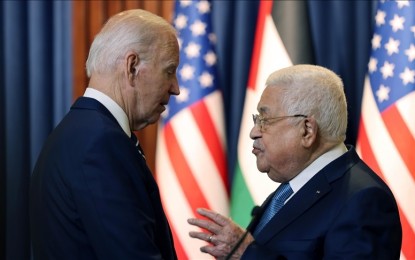 ANKARA – The presidents of Palestinian and the US discussed developments in the Gaza Strip on Saturday amid an Israeli intensified onslaught.
Mahmoud Abbas told Joe Biden on the telephone that the two-state solution can only achieve peace and security in the region, according to the official Wafa news agency.
He stressed "the necessity of allowing urgent humanitarian corridors to be opened" towards Gaza, and to provide basic materials to the people in Gaza.
Abbas also told the US president that he "categorically rejects" the eviction of Palestinians from the Gaza Strip, as Israel forced residents to leave their areas.
The White House said the Palestinian leader was briefed by Biden on his efforts "to bring urgently needed humanitarian assistance to Palestinian people, particularly in Gaza."
Israeli forces launched a sustained and forceful military campaign against the Gaza Strip a week ago, in response to a military offensive by the Palestinian group Hamas in Israeli territories.
The conflict began Oct. 7 when Hamas initiated Operation Al-Aqsa Flood -- a multi-pronged surprise attack including a barrage of rocket launches and infiltrations into Israel via land, sea and air.
Hamas said the operation was in retaliation for the storming of the Al-Aqsa Mosque in occupied East Jerusalem and Israeli settlers' growing violence against Palestinians.
The Israeli military then launched Operation Swords of Iron against Hamas targets within the Gaza Strip.
That response has extended into cutting water and electricity supplies to Gaza, further worsening the living conditions in an area that has endured a crippling siege since 2007, as well as ordering more than 1 million Gazans in the northern strip to evacuate to the southern strip within 24 hours.
More than 3,500 people have been killed since the outbreak of the conflict, including 2,215 Palestinians and 1,400 Israelis. (Anadolu)