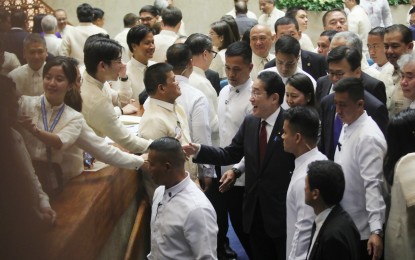 MANILA – Members of the House of Representatives are upbeat about intensifying efforts to further protect the country's interest in the West Philippine Sea (WPS) following the speech delivered by Japanese Prime Minister Fumio Kishida during Saturday's special joint session.
In a news release, Speaker Ferdinand Martin Romualdez said many of them were motivated by the speech of Kishida.
Kishida said Japan is a serious partner to the Philippines in terms of security and defense cooperation issues.
He vowed Japan's renewed commitment to defend a free and open Indo-Pacific (FOIP).
"Prime Minister Kishida's remarks prove that Japan is a dependable, eager, and stable partner of the Philippines in fostering international order. Together with like-minded nations such as the United States (US), we look forward to solidifying the cooperation blueprint with Japan," Romualdez said.
He said an important pillar of FOIP is to "extend efforts for security and safe use of the sea to the air."
The Japanese leader shared with the joint body its decision to donate 12 ships to the Philippine Coast Guard (PCG), as well as the delivery of a warning and control radar to the Philippine Air Force.
The Philippine Navy is also expecting the delivery of coastal surveillance radars from Japan under the newly established Official Security Assistance.
Both countries would further seal their cooperation through the planned Japan-Philippines Reciprocal Access Agreement, their version of the Visiting Forces Agreement that the Philippine government signed with the United States.
"We sincerely thank Prime Minister Kishida and the Japanese people for their generosity. They truly are a good friend of our country," the House leader said.
He said the House of Representatives wants to augment the capabilities of the PCG, Armed Forces of the Philippines, and other security agencies with the realignment of PHP1.23 billion in confidential funds under the PHP5.768-trillion General Appropriations Bill. (PNA)