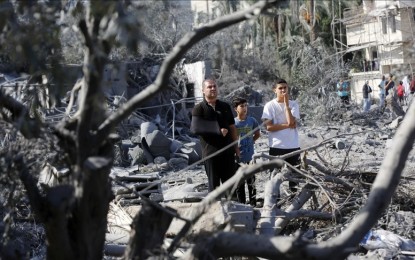 ANKARA – The Palestinian Health Ministry said on Tuesday the death toll from Israel's ongoing intensified onslaught on the Gaza Strip since Oct. 7 has jumped to 10,328 people.
Among the killed are 4,237 children and 2,719 women, Gaza-based Health Ministry spokesperson Ashraf al-Qudra said at a press conference.
More than 25,956 others have also been injured as a result of Israeli forces' attacks on Gaza, he added.
The spokesperson urged the United Nations and the International Committee of the Red Cross to protect health facilities and ambulances from Israeli attacks.
Israel launched air and ground attacks on the Gaza Strip following a cross-border attack by Hamas on Oct. 7.
Besides the large number of casualties and massive displacements, basic supplies are running low for Gaza's 2.3 million residents due to the Israeli siege. (Anadolu)