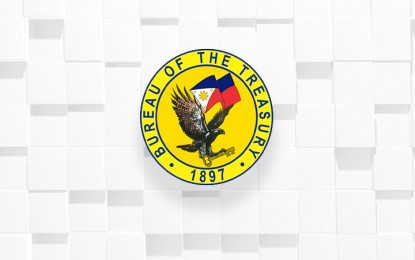 MANILA – The national government's (NG) debt payments went up by 15 percent in September this year, data from the Bureau of the Treasury (BTr) showed.
In a report, the BTr said the debt service bill during the month amounted to PHP238.9 billion, up from last year's PHP206.9 billion.
More than half of the debt payments during the month went to amortization.
Data showed that principal payments amounted to PHP167.5 billion, higher by 13.9 percent than last year's PHP147 billion.
Of the total, the BTr paid PHP148.8 billion to domestic lenders and PHP18.6 billion to foreign creditors.
Interest payments, meanwhile, amounted to PHP71.4 billion, up by 19.3 percent from the PHP59.8 billion in the same month last year.
Interest on local debt rose to PHP55.8 billion this year from PHP47.7 billion in 2022.
Domestic interest payments during the month consisted of PHP28.6 billion in fixed-rate Treasury bonds, PHP25.6 billion in retail Treasury bonds and PHP1.6 billion in Treasury bills.
Interest on foreign debt amounted to PHP15.5 billion, also higher from last year's PHP12.1 billion.
For the first nine months of the year, BTr data showed debt payments reached PHP1.4 trillion.
Principal payments amounted to PHP940 billion while interest payments reached PHP460.1 billion.
In a Viber message, Rizal Commercial Banking Corporation chief economist Michael Ricafort said the higher debt service bill in September "may be a function of higher government debt maturities, especially from August to September 2023."
"Higher US interest rates since 2022 also fundamentally increased the government's debt servicing bill. The weaker peso exchange rate versus the US dollar also increased the peso equivalent of the country's foreign debt, thereby increasing the national government's debt service bill," he said.
For the coming months, Ricafort said the same factors would continue to affect the NG debt service bill.
"However, relatively lower government bond maturities in 4Q (fourth quarter) 2023 to February 2024 could somewhat reduce the NG debt bill during this period," he added.(PNA)