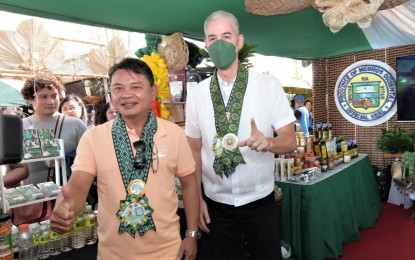 BACOLOD CITY – The Negros Occidental provincial government is aiming to enhance the market potential of Negrense-made organic products as the 16th Negros Island Organic Farmers Festival kicked off here on Wednesday.
"We need to empower and enable our farmers, making it our primary goal to enhance the market potential of our organic products," Governor Eugenio Jose Lacson said in his message during the opening program at the Negros Residences.
Themed "Regeneration for Future Generations," the five-day festival highlights the importance of eco-friendly farming practices, emphasizing sustainable regenerative farming.
The event features an organic fair and exhibit of Negros Island's best of organic offerings, including farm produce, products, and merchandise, as well as cook fests, seminars, and workshops.
"As this year's celebration encompasses multifaceted programs aimed at enhancing our knowledge, awareness, and commitment to sustainable agriculture and its methods, our dedication is crucial not just for the economic development of our island but, most of all, for the well-being of our communities, the mitigation of environmental destruction, and the protection of the health of farmers, consumers, and the general public," Lacson said.
During the opening event, Tourism Board executive director Woodrow Maquiling Jr. and Negros Oriental OIC provincial agriculture officer Emmanuel Caduyac represented Negros Oriental Governor Manuel Sagarbarria.
Held alongside the 16th Negros Island Organic Farmers Festival is the 1st Terra Madre Visayas to promote small-scale, traditional, and sustainable food production in the region.
Terra Madre Visayas is the Filipino iteration of the Italian event, Terra Madre Salone de Gusto.
Its central theme, "Visayas: Food and Culture Biodiversity," underscores the festival's commitment to eco-friendly farming practices and collectively envisions the future of the food systems and the planet. (PNA)