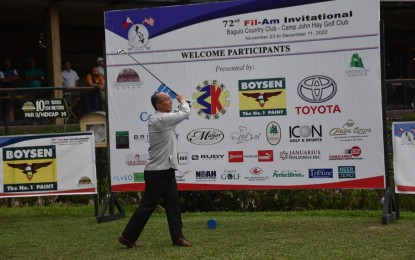 BAGUIO CITY – This city's tourism sector will get an additional kick from the 76th annual Fil-Am Invitational amateur golf on Nov. 25 to Dec. 10 with some 1,400 players from 252 teams, including those from golf clubs outside the country.
Andrew Pinero, client and member relations manager of the Baguio Country Club, one of the two playing venues aside from Camp John Hay Golf Club, said this year's event marks the biggest in terms of number of players.
"Usually, the number of players is about 1,320 or 1,340 but the organizers pegged it at the maximum of 1,400 including alternates for both the Fil(ipinos) and the Am(erican) divisions," he said.
Pinero said the players are expected to bring their families along.
He said the Filipino players, some of whom are Baguio locals, come home not only for the tournament but to be with their families.
The foreign players are from the United States, Canada, Australia, Japan, Taiwan, and United Kingdom, who were invited by expatriates now based in the city, he said.
Manila Southwoods will defend its Fil and Am regular titles. (PNA)