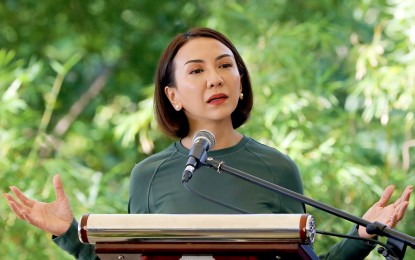 MANILA – Several senators took offense after Philippine Retirement Authority (PRA) General Manager Cynthia Lagdameo Carrion texted them, including Senate President Juan Miguel Zubiri, Tuesday morning to hasten the deliberation of the 2024 proposed budget of the Department of Environment and Natural Resources (DENR) so the body can immediately proceed hearing the Department of Tourism's (DOT) in which her agency is attached.
Senator Jinggoy Estrada was the one who called out the attention of Carrion, who was also present in the plenary, saying she should not "lecture" senators on how to do their job.
"We are doing our job and no one has the right to tell us to stop talking here. It is our duty and our job to perform our work here in the Senate and you don't have the right to tell us what to do here," Estrada said.
Carrion reportedly messaged Estrada, Zubiri, Senator Pia Cayetano and Senate Deputy Minority Leader Senator Risa Hontiveros while the DENR budget is under interpellation.
Zubiri, who admitted that Carrion is his friend, called the latter's actions "inappropriate."
"It was very surprising that this person, Ma'am Cynthia, who is a friend of mine, we're family friends, and if it was just me, I would just let go of it. But when I heard that you were texting other members of the Senate, particularly more insulting messages to Senator Risa Hontiveros, to stop asking about the budget already of DENR because you want the DOT to be next in line, that is not proper. That is inappropriate," Zubiri said.
Apology
Tourism Secretary Christina Frasco apologized to senators on behalf Carrion at the plenary debates, saying she ordered an investigation into PRA General Manager Cynthia Carrion's "highly inappropriate, unacceptable, and out-of-line" actions.
She said Carrion demanded earlier in the day that the DOT hearing be placed first in the schedule of budget deliberations.
She told Carrion, "Senate is an independent body and we must fully respect their schedule, their discretion, their time. We wait like everybody else, because we are in their house."
"Imagine my shock and complete and utter disappointment when I learned that she, in defiance of what I had been very clear to her about, proceeded to send these inappropriate text messages," Frasco said.
Frasco ordered Carrion to issue an immediate and personal apology to the senators.
"As a tacit manifestation of our commitment to set things right, I have already ordered the chief of staff to immediately conduct an investigation into her actuations and subsequent findings of the same to mete out the appropriate penalty that is appropriate to the impropriety of her actions," she said.
Hontiveros said she took offense over Carrion's messages but thanked Frasco for her apology. (PNA)