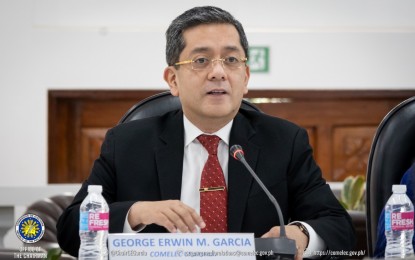 MANILA – The decision on whether or not to allow Smartmatic Philippines to join the bidding for the 2025 poll automation project will be announced on Wednesday.
"This one's final: hopefully, by Wednesday, we will be able to come out with our decision," Commission on Elections (Comelec) chairperson George Erwin Garcia said in an interview on Tuesday.
Garcia noted that they decided to have a deadline on the case before the submission of bids for the Full Automation System with Transparency Audit/Count (FASTrAC) project next week.
"We want to promulgate the decision before the submission of all bidding documents of all looking to participate (in the bid)," he said.
The deadline for the Submission of Bids and the Opening of Bids for the FASTrAC project is on Nov. 28.
In June, petitioners former poll body commissioner Augusto Lagman, former Department of Information and Communications Technology secretary Eliseo Rio, retired Col. Leonardo Odoño, and former Financial Executives Institute of the Philippines president Franklin Ysaac asked the poll body to disqualify Smartmatic, by declaring it ineligible, from participating in the public bid for the 2025 automated election system (AES).
The petition stemmed from allegations that the May 2022 AES was supposedly marred with "serious and material irregularities," particularly in the transmission and reception of poll results.
On the other hand, Smartmatic answered the petition, saying that it is premature as they have yet to participate in the bid.
The AES for the next national polls is worth PHP18.8 billion. (PNA)