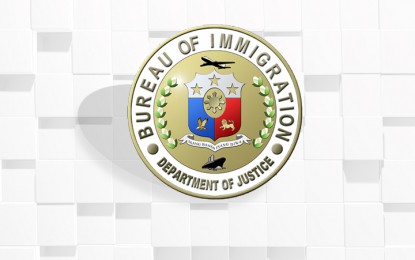 MANILA -- The Bureau of Immigration (BI) is pushing for the passage of a new immigration law "to effectively implement its mandate", particularly in imposing heavier fines against erring airline companies.
"It is necessary to equip the BI with the necessary legal and administrative tools for us to effectively carry out our mandate," said Immigration Commissioner Jaime Morente in a statement Tuesday.
The BI chief's remarks came after the Commission on Audit (COA) recommended that BI employees be charged administratively for not implementing the agency's policies and for non-collection of fines.
In its 2018 Annual Audit Report, the COA stated that, "The Order of Exclusion imposing administrative fines and sanctions as prescribed in Section 44 (d) of the Philippine Immigration Act of 1940 was not strictly monitored."
This, according to COA, resulted in erring airlines companies being able to evade paying fines, which totaled to PHP273,011,500 by the end of 2018.
According to Morente, Section 44 of the Immigration Act states that vessels or aircraft that bring in improperly documented aliens may be subjected to a fine of PHP500 for each person brought, and should not be granted clearance until the fine has been settled.
He noted that the amount was increased in 1999 to PHP50,000 by then BI Commissioner Leandro Verceles, but its legality was questioned by airline companies, resulting in non-payment of imposed fines.
But in 2016, Morente added that former Justice Secretary Emmanuel Caparas issued a circular directing the BI to revert to charging PHP500, following a petition from an airline questioning the legality of the 1999 memorandum, stating that the added fine has "no legal basis", as the immigration act fixes the amount of the said fine at only PHP500.
He said that Caparas then advised the bureau to instead propose legislation that will amend the present immigration act and adjust the amounts of fines imposed on airline companies.
"This is exactly the reason why we're pushing for a new law. Our laws are outdated, our fines are outdated, we have no teeth in imposing fines and penalties," Morente added.
BI Spokesperson Dana Sandoval said that while the bureau respects COA's recommendations, she said grounding airlines until they pay their penalties may have "drastic economic and tourism effects".
"Let's remember that this is a 1940s law, and there were only a few commercial vessels and flights back then. Now, planes and ships come 24/7. If we impose this, it will freeze the entire airline and tourism industry," she said.
"There has to be balance, we must be able to impose penalties without necessarily harming the tourism industry," the BI official added.
Sandoval stressed the importance of upgrading the fines imposed upon airlines.
"Five hundred pesos sounds like a joke nowadays. It's a very low amount. Driving without a seatbelt has a PHP1,000 fine, while bringing in an improperly documented alien will only cost PHP500? It does not make any sense. Our neighbors like Indonesia charge around PHP60,000 for administrative fines, while IATA (International Air Transport Association), in an article said that the average for other countries is around PHP182,000 per passenger. Five hundred pesos sounds very low compared to that," she stated.
Reports from BI's Port Operations Division revealed that there has been an increase in airline violations, following the decrease of the penalty.
She explained that the objective of the fine is to "discourage airline and shipping companies from ignoring Philippine laws by allowing aliens to board despite not having the proper documentation".
Meanwhile, Morente added that they have already requested the DOJ to reinstate the order allowing them to collect the PHP50,000 fine.
"We are continuously recording and billing airlines, but they have not paid yet. We deferred collection while waiting for the issue on the fees to be resolved, but in compliance with the recommendations of the COA, we will be enforcing collection of the PHP500 fine," he said.
With this, the BI chief added that they will be conducting an investigation to see if there have been lapses on the part of their employees.
Morente also instructed the BI's Port Operations Division to craft a policy to immediately enforce collection of fines at the airports.
"We will be studying if it's best that airlines can settle their penalties at the airports, or if they deposit a bond from which we will deduct their fines," he said. (PNA)