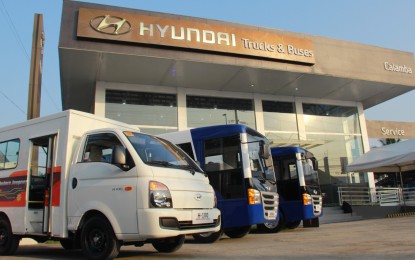 MANILA – Hyundai Asia Resources Inc. (HARI), the official distributor of Korean car Hyundai in the Philippines, registered a 27.6-percent decline in its sales in January this year.
HARI reported that its vehicle sales dropped to 2,045 units in January from 2,825 units in the same month last year.
"The Taal ashfall and Covid-19 (coronavirus disease 2019) later in the month caused a temporary setback, dampening demand and supply chain disruptions, making 2020 a less resilient year," HARI President and Chief Executive Officer Ma. Fe Perez-Agudo said.
Perez-Agudo added the ashfall from the eruption of Taal Volcano in January caused its dealership and facilities to close their operations in Metro Manila and in Calabarzon (Cavite, Laguna, Batangas, Rizal, and Quezon) area.
On the other hand, the Covid-19 that originated in China has delayed the shipments of vehicles because of the extra health precautions in international and local ports.
Hyundai's sales of passenger cars in the Philippine market declined by 33 percent to 967 units in January this year from 1,443 units a year ago.
Light commercial vehicle sales likewise fell by 19.9 percent to 1,053 units last January from 1,315 units sold in the same month of 2019.
Sales of commercial vehicles registered the largest decline of 62.7 percent, selling 25 units in the first month of 2020 from 67 units of commercial vehicles sold during the same period the previous year.
Despite a less optimistic start for 2020, Perez-Agudo said the impact of these downside risks is manageable.
"But given the Philippines' stable economic fundamentals -- a stable exchange rate, strong private consumption, lower inflation, and interest rates, and robust public spending -- the impact of these factors can be well managed," Perez-Agudo said.
Meanwhile, HARI targets to sell more modern jeepneys as the government pushes for the Public Utility Vehicle Modernization Program.
In January, HARI launched the Hyundai HD50S Class 3 modern jeepney.
In the same month, the company delivered the initial batch of Hyundai HD50S Class 2 modern jeepneys to the Public Transport Alliance of Gensan.
The group ordered 300 units of modern jeepneys from HARI.
The modern jeepneys are seen to support HARI's commercial vehicle sales this year. (PNA)