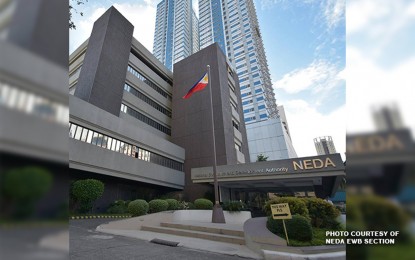 MANILA – Well-coordinated measures guided by a comprehensive plan are crucial to contain the spread of the coronavirus disease 2019 (Covid-19) and to mitigate its social and economic impact, the National Economic and Development Authority (NEDA) said on Tuesday.
"This public health emergency brought about by Covid-19 shows us how crucial it is for us to have a whole-of-government and whole-of-society approach in addressing this challenge," Socioeconomic Planning Secretary Ernesto Pernia said in a statement.
Pernia said the response measures should "delicately balance" the health and economic objectives, particularly as the impact varies by economic class.
"Otherwise, the situation could deteriorate to a social and political crisis," he added.
To mitigate the social and economic impact of the Covid-19 pandemic, NEDA has proposed a three-phased program of interventions: Phase 1a: Clinical /Medical Response; Phase 1b: Public health response; Phase 1c: Short-term augmentation of health systems capacity; Phase 2: Rebuild consumer and business confidence; and Phase 3: Resume a new normal state of economic activity that is more prepared for another possible pandemic.
"During a crisis, it is best to plan ahead and avoid the worst-case scenario. We have crafted a comprehensive program of actions, learning from experiences and insights from various sectors and countries," Pernia said.
He said the program requires close collaboration among government instrumentalities from national to local, the business sector from micro to large, non-governmental organization (NGOs), and citizens.
"It is also necessary for us to think ahead even while we address the most urgent and critical challenges," he added.
As Covid-19 cases continue to rise, the Philippines is in Phase 1, which focuses on public health measures to minimize the duration and contain the spread of the disease.
Under Phase 1a: Clinical / Medical Response, early detection and diagnosis, effective quarantine system, effective management and treatment protocol, research and epidemiological studies are among the necessary government interventions.
"The key to a successful medical response is widespread testing. Early detection and diagnosis will lead to early initiation of quarantine procedures, which will therefore limit or prevent the spread of the coronavirus disease," Pernia said.
He underscored the importance of having an adequate number of testing kits, medical supplies, facilities, and equipment and health care personnel across the country.
"This may require the use of makeshift facilities or converted structures, in the immediate term," he added.
Interventions under Phase 1b: Public Health Response, on the other hand, require utmost cooperation from the public. Travel ban, promotion of proper hygiene, ban on crowded gatherings, school closures, work suspension, flexible work arrangements in non-essential sectors, and work continuance in essential sectors comprise this phase, to contain the spread of the disease while ensuring sufficiency and accessibility of basic necessities.
"We are currently in this phase –implementing protective-distancing and, in the coming days, social protection programs will be rolled out for those hit hard by the work suspension orders. These are being shepherded by the joint Inter-Agency Task Force on Emerging Infectious Diseases and National Disaster Risk Reduction Management Council," Pernia said.
Meanwhile, efforts to augment health systems capacity need to be accelerated to ensure that the country is equipped to handle potential surge when the enhanced community quarantine (ECQ) is lifted.
Under Phase 1c, the establishment of makeshift outpatient consultation facilities with specimen harvesting capability is needed, including the increase of supply of personal protective equipment (PPE) and remote quarantine facilities (RQF).
"At this phase, it may be useful to engage a wider portion of the population in the supply of the essentials to fight Covid-19. Existing businesses may be encouraged to reconfigure their product offerings to include these essentials," he said.
Once the ECQ is lifted, reduced economic activity is still expected as the public becomes hesitant to engage.
During this time, the government must assure the public of the adequacy of the country's improved health systems, which is under Phase 2 of the proposed program on interventions.
"To maintain appropriate protective distancing even beyond the ECQ, businesses may implement staggered working hours. Provision of emergency loans may also be resorted to address balance sheet problems of both the business sector and consumers," Pernia said.
Redefining the new normal state of economic activity under Phase 3 includes recalibrating development plans and work programs to conform to the new normal.
Meanwhile, NEDA will begin its preparations for Phase 3 by various scenario and foresight planning exercises involving multiple stakeholders, including experts and development partners.
"At this point, there is a need to engage the whole-of-government in crafting the policies and programs under the new normal scenario. The more important phase is communicating these to the public and building a constituency for these new policies and programs," Pernia said. (PR)