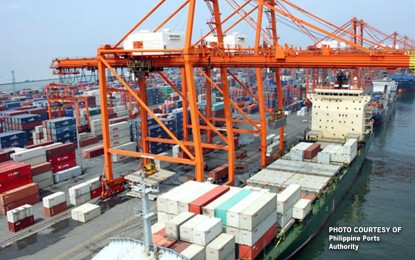 MANILA – As the country continues to grapple with the impact of the coronavirus disease 2019 (Covid-19) pandemic, the National Economic and Development Authority (NEDA) said the government must intensify trade sector reforms for the economy to overcome the challenges of a huge global economic slowdown.
The Philippine Statistics Authority (PSA) reported Wednesday that the country's total merchandise trade contracted by 5.9 percent, reaching USD 12.5 billion in February 2020.
"The public health emergency we are experiencing emphasizes the need to fast track reforms to facilitate trade by reducing transaction costs. We must be creative in finding ways to ease the movement of goods and services while we continue to implement measures to combat Covid-19," Socioeconomic Planning Secretary Ernesto Pernia said in a statement.
February's trade performance was caused mainly by the 11.6-percent decline in imports, even as exports managed to post a positive growth of 2.8 percent.
"We must aggressively pursue and prioritize the digitization of import and export documents, with the institutionalization of the TradeNet system as well as the utilization of cashless payments for all government services," he said.
In February 2020, merchandise exports continued to expand, albeit slower, with increased shipments of agro-based products, mineral products, petroleum products and manufactured products.
Meanwhile, import payments fell due to lower order for capital goods, mineral fuels and lubricants, consumer goods, and raw material and intermediate goods.
"While the government has eased the burden to businesses by allowing rent, bills and utilities payment extension, efforts should also be given to help them restart their operations and defray the cost of lost revenues," he said.
Pernia said this can be done in the form of temporary reprieve of demurrage and customs fees or waiving of navigational charges for the airline industry, which has been among the hardest hit with the restrictions on mobility.
Businesses should be encouraged to craft their business continuity plans that will specifically provide protocols for different emergency situations, he said.
"The country's experience in responding to the Covid-19 pandemic has brought home the crucial importance of synergy of efforts of the government, private sector and citizens. Such cooperation in making limited resources work should be part of the new normal that will emerge after this pandemic," he added. (PR)