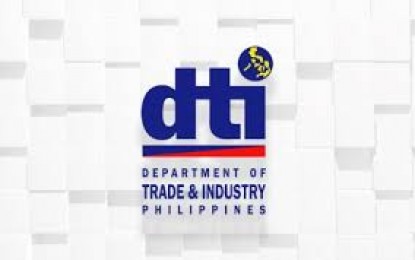 MANILA – The country has increased its capacity in producing N88 surgical masks, medical-grade coveralls, and ventilators vital for its fight against coronavirus disease (Covid-19).
Data from the Department of Trade and Industry (DTI) show that as of July 2020, local production of N88 masks can reach 32 million a month from the monthly output of six million.
Medical grade coveralls and ventilators are now locally produced with a capacity of manufacturing 300,000 personal protective equipment (PPE) and 1,000 ventilators.
"Investments (are) being implemented this July such as arrival and installation of equipment for N95 mask production, production of melt-down N88 middle filter, and non-woven polypropylene (NWPP) medical grade fabric needed for PPE production," DTI's technical report said.
In a previous online media briefing, DTI Undersecretary Ceferino Rodolfo said one of the challenges in producing PPE in the country is the raw materials for these products, such as the middle filter for N88 masks and fabric for medical-grade PPE.
One of the initial actions of DTI in ramping up production of much-needed PPE amid the government's Covid-19 fight is the repurposing of facilities of garment exporters to locally produce medical-grade PPE.
In April, member companies of the Confederation of Wearable Exporters of the Philippines (Conwep) started to produce 10,000 coveralls daily.
Conwep has pioneered the local production of medical-grade PPE in the country.
The DTI also encouraged the repurposing of manufacturing facilities to produce critical products during the pandemic.
Luen-Thai Reliance, Collins Aerospace, and Peridou Inc. are now making PPE; while EMS, Everwin, Richmond Healthcare, Distinctive Binds, and Office Supply, IMI, Minoura Philippines, Bioteq, TACCA Group, and Hyundai are producing hospital-grade masks.
Mandaue Foam, UP-Ateneo, Armscor, My3D Concept are also making face shields while Destileria Limtuaco and Tanduay Distillers are producing alcohol and Lloyd Laboratories are producing drugs.
DTI's Shared Service Facility Fabrication Laboratories or SSF FabLabs also contributed to the increase in the manufacturing of critical products.
These SSF FabLabs already produced 59,026 face masks, 79,789 face shields, 1,872 medical gowns, 3,996 liters of ethyl alcohol, and 253 aerosol boxes.
These were distributed to 1,319 hospitals, health units, and institutions doing frontline work. (PNA)